Winter Weather Advisory Hudson Valley Northwest Connecticut
Snow Later Sunday Into Monday AM
Winter Weather Advisories are up for the Hudson Valley and the Catskills mainly north of Route 84. Also Winter Weather Advisories are up for Northwest and North Central Connecticut. These areas will see accumulating snow Sunday into Sunday night. We may see additional counties in Northeast Pennsylvania and Northwest New Jersey added to the advisory area Sunday.
Most of the area in the advisory zone is forecast to pick up 2 to 4 inches and there may be a few localized jackpot zones. In the meantime clouds offshore from an ocean storm have been hugging the immediate coast all day while it was sunny everywhere else. Clouds from the west are moving east and we will see clouds increase overnight. Most lows inland will be in the 20s while coast and warmer urban locations will be in the low to mid 30s.
SATELLITE

WEATHER RADAR

Sunday we will see snow spread across the northern half of Pennsylvania, NW New Jersey and NY state and the into Connecticut. This is being driven by a weakening low inland, a developing low offshore, and a vigorous upper air trough swinging southeast across NY state. Rain will develop along the coast in Central and South Jersey, Southeast Pennsylvania and Long Island.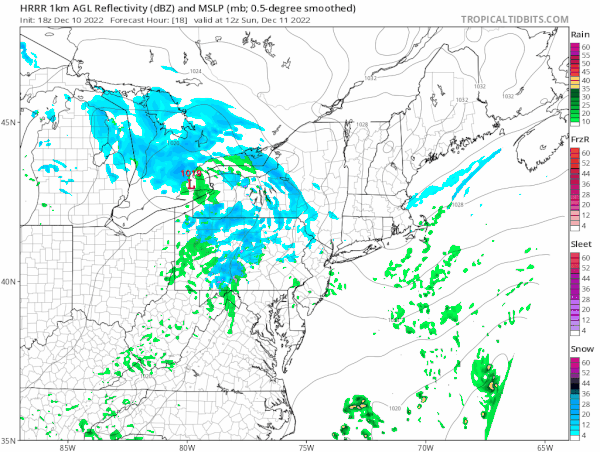 Some of the models like the HRRR from earlier today are indicating that the coast could change to snow Sunday night for a short time. This is due to the upper air low moving overhead and cooling down the atmosphere. We will be watching for that possibiltiy developing during Sunday. This could cause the southern flank of the snow are to be about 50 miles or so further south. All of this ends early Monday morning. Sunday highs will be in the 40s along the coast and in the low to mid 30s inland where it is snowing. Monday will bring improvement. Tuesday and Wednesday will be dry and chilly. Then a storm from the Plains will be heading east Thursday and we will start talking about that system once this one is out of the way.
Please note that with regards to any severe weather,  tropical storms, or hurricanes, should a storm be threatening, please consult your local National Weather Service office or your local government officials about what action you should be taking to protect life and property.