Winter Weather Advisory Hudson Valley Connecticut
Winter Weather Advisory Hudson Valley Connecticut
Cold air is wedged down from Southeastern Canada and it may be very stubborn to get out of the way. Moisture is moving across the Great Lakes and into New York State and New England. As a result there is a Winter Weather Advisory for Friday for the Hudson Vally except for Westchester County and for Connecticut north of Route 15. Precipitation on Friday will start during the mid morning hours and is likely to be patchy in nature. There is the risk of slick spots developing in some areas into Friday afternoon. Some light snow mixed with sleet and freezing rain is possible in the counties mentioned above. There could be an accumulation of ice of up to a few tenths of an inch by mid afternoon until temperatures go above freezing. That may be a struggle away from the coast.
SATELLITE LOOP

REGIONAL RADAR

Radars are beginning to pick up on patchy light precipitation breaking out in some areas along with a larger area moving down from Western New York.
LOCAL RADAR NEW YORK CITY
LOCAL RADAR PHILADELPHIA

From New Jersey and Northeastern Pennsylvania this is likely not to be an issue though some slick spots could develop in Northeast Pennsylvania and Northwest New Jersey for a time into Friday afternoon before temperatures rise. Elsewhere some patchy rain is likely to develop later in the day. Temperatures in these areas will slowly make there way up into the 40s and by Saturday morning much of this area could reach the 50s. Dense fog could develop Friday night just inland of the coast as that warmer air tries to penetrate northward.
Rain is forecast for Saturday into Saturday night as temperatures rise into the lower 60s in South Jersey and Southeastern Pennsylvania…50s further north..while 40s may hold in the Hudson Valley, interior Connecticut and Northwest New Jersey. A cold front will pass through later Saturday evening bringing an end to the rain.
SNOW CHRISTMAS EVE NIGHT INTO CHRISTMAS MORNING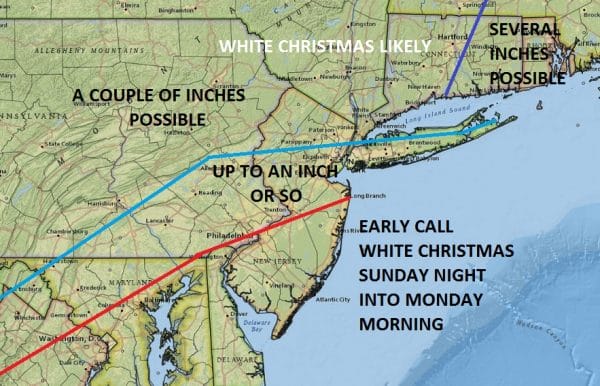 Weather models in general have grown a bit more  bullish overnight on a developing wave on the stalled front to the south and an upper air trough coming in from the west enhancing the moisture. For now we will leave this forecast for snow amounts into Monday morning as is but if models continue to come in more aggressive we may have to do a bit of adjusting higher in areas to the north and east of NYC.

GET JOE A CIGAR IF YOU LIKE 
FiOS1 News Weather Forecast For Long Island
FiOS1 News Weather Forecast For New Jersey
FiOS1 News Weather Forecast For Hudson Valley
LATEST JOESTRADAMUS ON THE LONG RANGE