Winter Weather Advisory For Freezing Rain Hudson Valley Southern New England Rainy Christmas Elsewhere

Weather in 5/Joe & Joe Weather Show Latest Podcast
Winter Weather Advisory For Freezing Rain Hudson Valley Southern New England Rainy Christmas Elsewhere

Well that was about as close to a White Christmas as we are going to come to this year and it was a nice coating to an inch or so from a little system that outperformed  a bit overnight and this morning. Of course now it is long gone and not all areas got to see this but this month snow has been so lacking that you take what you can get. The next weather system is already gathering some steam in the Ohio Valley. and Winter Weather Advisories are posted for overnight into Saturday morning from the Hudson Valley to Central and Southern New England. This time it is not for snow but for some ice accretion overnight into Christmas Morning.
For most areas ice accretion amounts are in the .05 to .10 inch rain and it will make for some hazardous travel inland especially where cold air likes to get trapped in valleys. Nothing is happening for the rest of today and into tonight as most areas have enjoyed sunshine taking temperatures into the 40s. Clouds will start to arrive late today and this evening as the next low approaches. There is nothing on the radars to worry about at this time.
SATELLITE

WEATHER RADAR

Rain will develop tonight during the early morning hours and on the northern fringe of the rain shield will be some freezing rain. Temperatures in a situation are tough to guage. If skies can stay clear for a few hours tonight, most inland areas should radiate down into the upper 20s and lower 30s and that would a look for a few hours of freezing precipitation into daybreak Saturday.
Saturday it will be about cloudy skies and rain, mainly north of Route 80 in Pennsylvania and Route 78 in New Jersey. South of these routes it will be mainly cloudy and on the mild side with highs reaching the 50s. North of there in the rain it will be in the 40s and in interior New England we are talking about upper 30s and lower 40s.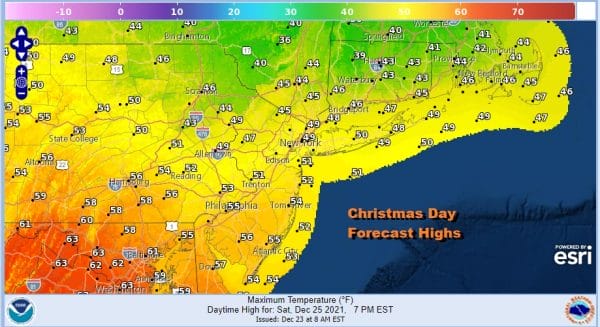 Low pressure develops offshore and winds turn northwest on Sunday with some sunshine and highs in the upper 40s and lower 50s. Monday we have sun and arriving clouds with highs in the upper 30s and lower 40s. Once again a weak weather system will move through Monday evening, this one more south than north and gradually weaken followed by a stronger low and rain Tuesday night and Wednesday. It is essentially a wash rinse repeat pattern that plays out all next week. There are no major changes in the long range pattern that I can see happening anytime soon as we head into January 2022.

Please note that with regards to any severe weather,  tropical storms, or hurricanes, should a storm be threatening, please consult your local National Weather Service office or your local government officials about what action you should be taking to protect life and property.