DOWNLOAD MY NEW FREE JOESTRADAMUS WEATHER APP FOR ALL DEVICES
THE APP IS ABSOLUTELY FREE TO ALL BUT CONSIDERING SUBSCRIBING TO PATREON FOR A WEATHER EXPERIENCE FREE OF ADS, EXCLUSIVE VIDEOS FOR MEMBERS ONLY AND MUCH MORE…STARTS AT $2 A MONTH..MESSAGE ME AT ANY TIME
Winter Weather Advisory Expanded
Winter Storm Watch NW NJ HV
We have our first system winding down this morning across Southern Pennsylvania and Southern New Jersey where 2 inches plus fell overnight. There is still some snow going on this morning in this area as the radars show below. Winter Weather Advisories continue there and now new advisories are posted for the next system tonight into Tuesday evening. Winter Storm Watches continue inland in NW New Jersey, much of Northeastern Pennsylvania to the Hudson Valley from Orange and Sullivan Counties northward. Winter Weather Advisories are now also posted for Connecticut and the Hudson Valley east of the Hudson River.
The first round of snow on the radar outperformed slightly overnight as a weak front moved through and a wave with a touch of enhancement from Atlantic moisture did the trick. The snow area made to about Route 195 and that was just about it as dry air to the north kept any snow from reaching the ground.

So close and yet so far on the NYC radar view where the area to the south continues to slide to the east and sink to the south. The activity on the Fort Dix radar to the south shows up a bit stronger with the heavy snow in the Southern New Jersey counties south into Delaware. Look for a lull in the snow for awhile this afternoon and then it should fire up again.
LOCAL RADAR NEW YORK CITY
LOCAL RADAR PHILADELPHIA

Round 2 sets up for tonight and Tuesday. The areas to the south fire up again this evening and the snow begins to advance northward. Look for snow to develop from south to north from New Jersey to Southern New England overnight and Tuesday morning followed by a change to sleet/freezing rain and then rain by late afternoon evening. I'm still leaving my early call forecast map alone. The real tough part here is figuring out what falls as snow and what falls as sleet. For now the early call snow map remains the same. I will update this later today.  My numbers are LOWER than the National Weather Service forecast amounts.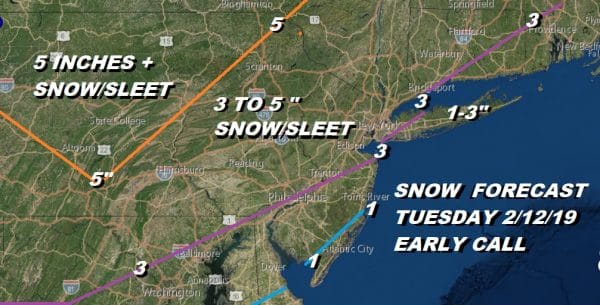 If I had to guess where this would go at this point, I would likely lean closer to lower end of the range here given what is happening. Then there is the snow/sleet issue; how much of each. Snow maps on the internet don't take that into account, You have to subtract out the sleet from the forecast so they aren't very useful. Either way it goes to rain, gets washed away tomorrow night and weather conditions improve on Wednesday.
MANY THANKS TO

TROPICAL TIDBITS

FOR THE USE OF MAPS
Please note that with regards to any tropical storms or hurricanes, should a storm be threatening, please consult your local National Weather Service office or your local government officials about what action you should be taking to protect life and property.