Winter Weather Advisory Connecticut Hudson Valley NYC New Jersey Eastern SouthEast & South Central Pa Into Maryland & Delaware
Winter Storm Warning Southeast New England

Weather in 5/Joe & Joe Weather Show Latest Podcast
Winter Weather Advisory Connecticut Hudson Valley NYC New Jersey Eastern SouthEast & South Central Pa Into Maryland & Delaware
Winter Storm Warning Southeast New England

We have all sort of warnings and advisories up with Winter Storm Warnings bookending this zone with West Virginia on one side and Southeast New England on the other. Winter Weather Advisories are in effect from Northern Virginia, Maryland, Delaware, Southern & Eastern Pennsylvania, New Jersey, NYC, Long Island, and Connecticut. There are no issues today as a cold front is passing offshore this morning bringing back some colder air. We will have sunshine today with a gusty breeze to start and then gradually easing later today. Highs will be in the 30s to at best near 40 late this afternoon. Nothing is on the radar to pose any issues today. There are snow showers in upstate NY moving into New England but they will not make it this far south.
SATELLITE

WEATHER RADAR

On that front that is moving through it is stalling across the Deep South and low pressure is developing on it. It will be moving east into the Southern Appalachians and then turning northward tonight and northeast on Friday passing east of New Jersey and south of Long Island. Weather models overnight were a little closer to the coast and a little deeper with the low as it goes by Friday.
National Weather Service snow forecasts have gone up especially from NYC eastward. We are inclined to wait until late today for another model cycle since there is no rush here. 2-4/3-5 inches seems to be a good bet for most folks in the advisory area with lower end amounts in Western New Jersey and Eastern Pennsylvania and higher end amounts along the coast from NYC eastward. Southeastern New England I think a 3-5/4-6 inch looks good here.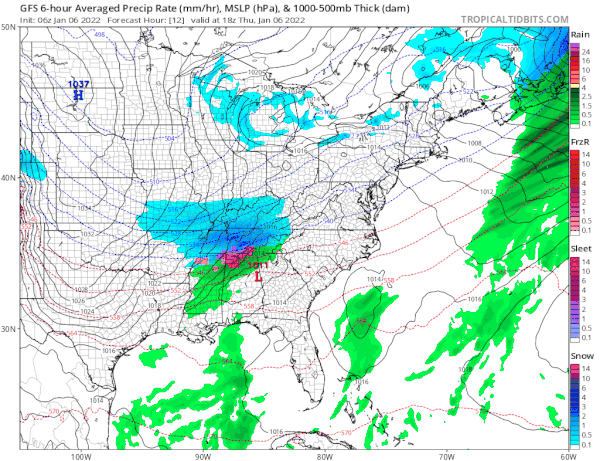 Snow develops rather quickly between 7am and 1am from Maryland to Southern New England and then ends during tomorrow morning from southwest to northeast between 7 and 10am. Weather conditions will improve afterwards as it will be on the windy side with some returning sunshine and temperature in the 30s. We will be down in the teens and low 20s Saturday morning. Saturday will be a nice sunny but cold day with highs barely back into the 30s.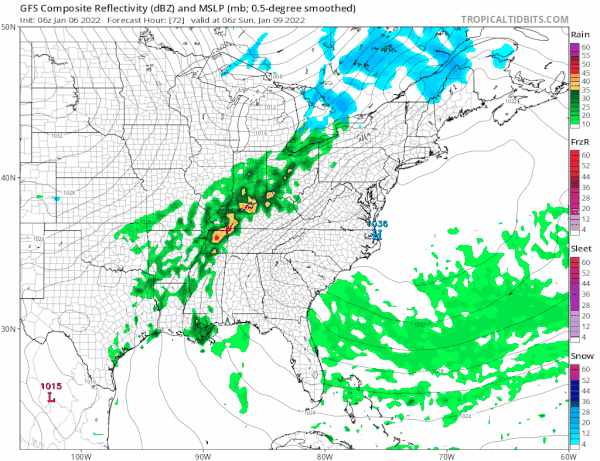 Sunday could prove to be an interesting day with an approaching cold front. Temperatures will be down in the low to mid 20s Sunday morning and even with a southwest wind, the cold air at the bottom of the atmosphere might be difficult to dislodge especially with some snow cover. This opens the door to the possibility of freezing rain developing across Pennsylvania Sunday morning and moving eastward into New Jersey and the Hudson Valley Sunday afternoon. Very cold air will come in behind that front to start off next week.

Please note that with regards to any severe weather,  tropical storms, or hurricanes, should a storm be threatening, please consult your local National Weather Service office or your local government officials about what action you should be taking to protect life and property.