DOWNLOAD MY NEW FREE JOESTRADAMUS WEATHER APP FOR ANDROID

THE APP IS ABSOLUTELY FREE TO ALL BUT CONSIDERING SUBSCRIBING TO PATREON FOR A WEATHER EXPERIENCE FREE OF ADS, EXCLUSIVE VIDEOS FOR MEMBERS ONLY AND MUCH MORE…STARTS AT $2 A MONTH..MESSAGE ME AT ANY TIME
Winter Weather Advisories New Jersey Eastern Pennsylvania
We haven't seen much of these advisories this winter so far but they are up for the counties in Northern and Western New Jersey and into Eastern Pennsylvania. They include the counties along and west of 287 in New Jersey and mainly north and west of the Route 1 Corridor. Advisories also exetnd into Eastern Pennsylvania leaving out the Southeastern part of the state.  No advisories are posted for the Hudson Valley and Connecticut at this time. For NYC, Long Island and the rest of New Jersey this will be the chance for a burst of snow this evening and then mostly rain for a few hours late tonight.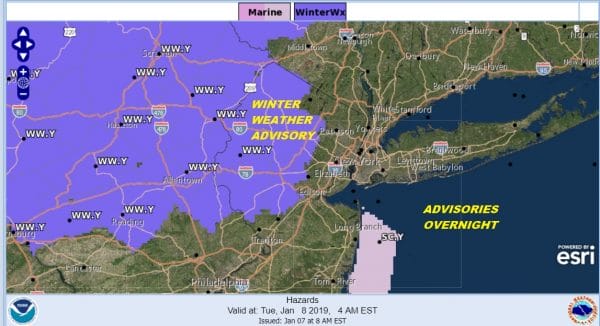 This is going to be more along the lines that the precipitation moving through be it snow sleet or a little freezing rain will create slick spots overnight while temperatures are below freezing and not due to the volume of precipitation since this warm front will produce a couple of tenths of an inch or less which at most would likely be a coating to an inch of snow and sleet.
This morning we awoke to cold temperatures that came in overnight on gusty northwest winds. Temperatures bottomed in the upper teens to mid 20s in most areas and we will be probably only struggle back to the low and mid 30s by evening. We have sunshine but high clouds are already moving in from the west ahead of a warm front.
EASTERN SATELLITE

REGIONAL RADAR

I'm not expecting much through this evening but you can see on the regional radar to the west that we do have a narrow northeast southwest band of some snow that is moving eastward. That band does hold together fairly well and doesn't seem the be getting handled well by some models. This area could produce a few flurries or a burst of snow late this afternoon or this evening. Then another band arrives between 1am and 7am Tuesday.
The precipitation is quick and doesn't last longer than a couple of hours at most. Then weather conditions warm with temperatures rising into the 40s Tuesday ahead of another cold front and a few rain showers late in the day into Tuesday evening. Colder air takes over for the rest of the week and in fact it will be quite windy at times Wednesday right into Friday as high pressure only slowly builds in from the north. That high sets the table for the possibility of snow over the weekend.
Weather models are growing more confident on the idea of the southern and northern parts of the jet stream bringing a low up the East Coast over the weekend with a chance for snow or snow changing to rain or, still perhaps not much of anything at all. This is going to be a matter of the two streams coming together or not. We will examine this further later today.
MANY THANKS TO

TROPICAL TIDBITS

FOR THE USE OF MAPS
Please note that with regards to any tropical storms or hurricanes, should a storm be threatening, please consult your local National Weather Service office or your local government officials about what action you should be taking to protect life and property.