Winter Weather Advisories Contineu Challenging Forecast For Friday
How Far South Does Cold Air Get?

Winter Weather Advisories Contineu Challenging Forecast For Friday
How Far South Does Cold Air Get?
Winter Weather Advisories are in effect for much of Pennsylvania except the southeast, all of Northern New Jersey from Route 78 northward into the Catskills and the Hudson Valley to Connecticut and Southeastern New England. Advisories have now been extended to include NYC and on Long Island Nassau and Northwest Suffolk Counties in what is proving to be a forecast that is more challenging for areas on the southern end of the advisory zone. It is even more challenging than Saturday's winter storm. We also have rain and fog around this evening and a dense fog advisory is up for parts of New Jersey to Southeastern Pennsylvania. There are no issues this evening or much of the overnight with rain heavy at times along with dense fog.
SATELLITE

WEATHER RADAR

The issues begin in the Hudson Valley as cold air on north to north northeast winds kick in as the front moves southward. Once the front  passes and winds shift temperatures will drop to and below freezing. What time that happens is very tricky. We are talking about the bottom 3000 feet of the atmosphere where the cold air is because above that layer it is above freezing.
The latest NAM model run this afternoon shows the low tracking a little further north delaying the arrival of cold air. The loop runs from 1am to 7pm Friday. It suggests that the cold air doesn't make it Long Island, NYC or NJ south of Route 80. Here is what i am doing about this. Expect a change to freezing rain beginning at Route 84 around 5am, reaching NYC and Northern NJ near Route 80 around 10 or 11am and if it makes it, Route 78 and Long Island around 1pm or so. It should be mostly done by 3 to 5pm so the further south you are the less ice you get. If it changes later than advertised than icing will be less and in some places like Long Island and south of Route 80 in NJ there could be little icing if any at all. I'm usually pretty definitive at this point of an approaching system. 9 times out of 10 the warmer solution wins.
In Pennsylvania and the Hudson Valley and Catskills and interior Connecticut especially north of route 84, there will be some significant icing as you go north and the change over will take place during the early morning hours from north west to southeast and should be done by early afternoon Friday. Southern Pennsylvania icing should be well west of Philadelphia but amounts decrease in Southern Pennsylvania near and just over the Maryland border. The map above and the maps below are the NWS updated ice forecast maps. Snow is not an issue unless you get a brief change before it ends and that won't amount to much.
Southern New England Ice Forecast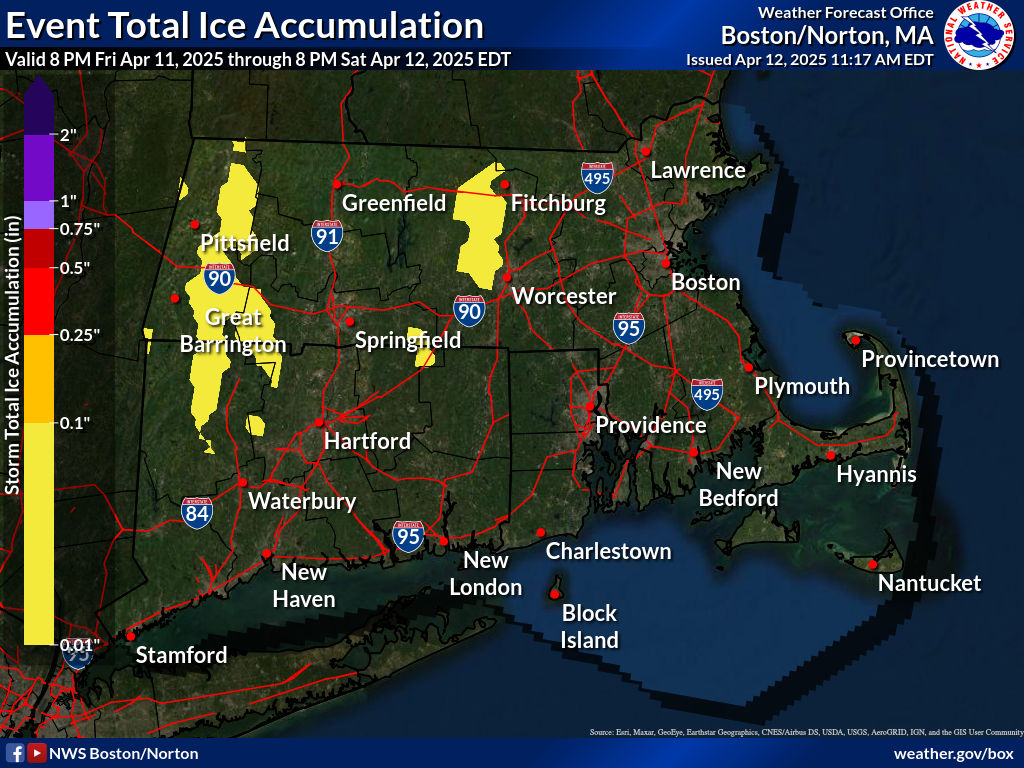 EASTERN PENNSYLVANIA NW CENTRAL & SOUTH JERSEY/DE MD
Please note that with regards to any severe weather,  tropical storms, or hurricanes, should a storm be threatening, please consult your local National Weather Service office or your local government officials about what action you should be taking to protect life and property.