Winter Storm Watches Warnings Advisories Snow Forecast Final Call
The first winter storm warnings are up for the Eastern Catskills and the Middle Hudson Valley as this area is inside a likely foot plus zone of total accumulation. The system plays out in two parts with round one on Sunday. Conditions will vary widely from Ice Storm Conditions likely in parts of South Central and Southwest Pennsylvania to heavy snow across Upstate NY and Interior New England to sleet and freezing rain to rain in South Central and & Southeast Pennsylvania to just some rain with a burst of sleet and snow at the start elsewhere.
As far as snow amounts are concerned remember this is a two part event. Much of what is forecast for New Jersey south of Route 80, NYC, The Hudson Valley south of Route 287 and Connecticut south of Route 15 doesn't come with the first shot. We will cover for a coating to an inch in these areas for Sunday. The accumulation could come on the back side once the low is offshore and stalled out on Monday but there is a lot of uncertainty of that happening in this zone so confidence there is not all that high.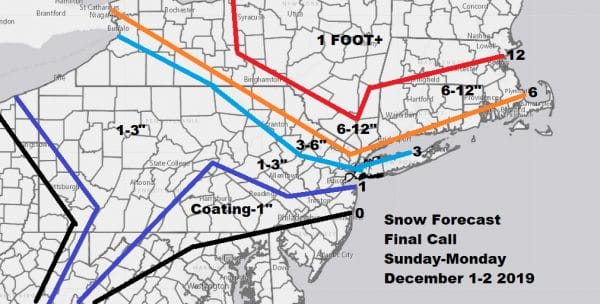 Some minor tweaks and adjustments are this are likely later today or tomorrow once things get underway but I'm not likely to change much in this. In the meantime we have a cold dry day today with sunshine giving way to increasing high clouds. Highs will reach the upper 30s and lower 40s in most places. Then we start setting up for precipitation to develop late tonight across Central and Western Pennsylvania and then gradually turning northeast on Sunday.
Icing is going to be a significant problem across Pennsylvania and even into parts of the Hudson Valley with up to a quarter of an inch or more of accumulation. Some areas in PA forecast to see as much as a half inch of ice accumulation which could be damaging.
SATELLITE

REGIONAL RADAR

Here is how it plays out for Sunday. Below is the NAM model loop from 4am Sunday to 7pm Sunday. You can see the widespread area of sleet and freezing rain. Start times are as follows..Philadephia at about 9am, NYC at about 10am, Poughkeepsie around noon and Hartford CT around 1pm or so. It changes to sleet quickly along the coast and then to rain. Just north of NYC we see a long duration sleet/freezing rain event here.
During the overnight Sunday into Monday much of the activity will shift north and northwest of coastal areas. Sleet/freezing rain continue north of 84 changing to snow as you head up the Hudson Valley. Gradually it changes back to  snow from north to south overnight and during the day Monday.
The models have been playing all sorts of games with the second round and often times back side snows along the coast tend to disappoint snow lovers. The presence of a strong upper air storm throws a variable in here of creating a surprise for someone. We will just watch and wait. Much of the accumulation forecast for the immediate coast of Long island and for New Jersey south of Route 78 would happen on Monday but it does tail off sharply. This all comes to an end later Monday night. Tuesday weather conditions improve. We will have more on this later today. In the meantime you can check National Weather Service snow forecast maps on the free weather apps by scrolling down.
MANY THANKS TO TROPICAL TIDBITS FOR THE USE OF MAPS
Please note that with regards to any severe weather,  tropical storms, or hurricanes, should a storm be threatening, please consult your local National Weather Service office or your local government officials about what action you should be taking to protect life and property.