Winter Storm Watches NW New Jersey
Inland NY State Much of Interior New England

Winter Storm Watches are up for Northwest New Jersey & Northeast Pennsylvania east across the Catskills, the Hudson Valley, much of Upstate NY,into Massachusetts and Northern & Western Connecticut. We have a major storm that will be developing over the next couple of days and that will produce heavy snows in many inland areas.
There are some early snowfall forecast estimates from the National Weather Service an there are areas of 1 foot plus snows being indicated from Northwest Connecticut west to the Catskills and points northward. Snow tails off as you reach the coast though the snow amounts forecast the coast are going to be volatile and the forecast will likely change and adjust over the next 2 days.
SATELLITE

WEATHER RADAR

Yesterday's storm system is still visible on the right side of the satellite loop while on the left side we see the moisture from the next storm system moving across the Great Lakes and Ohio Valley all the way down to the deep south. Low pressure is headed across the Tennessee Valley and will soon make a center jump to the North Carolina coast.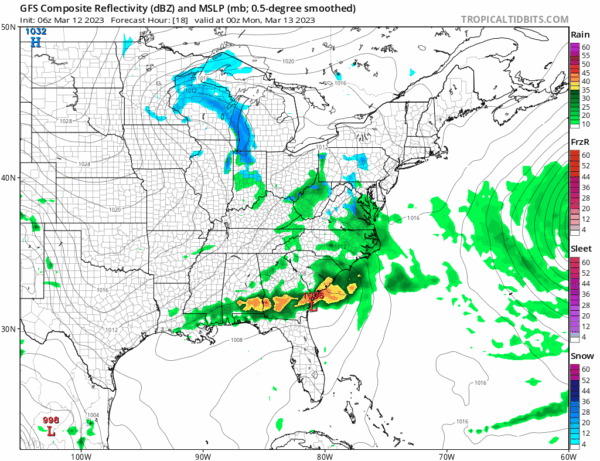 Not much happens today and tonight as the lead system approaches. We will likely just sit in lots of clouds all day with highs into the 40s in most places. Some rain will develop tonight and inland it could be a bit of a mix or some wet snow that doesn't amount to much. Temperatures overnight will be in the 30s. Then Monday as the low develops off the Carolinas rain will spread up the coast with snow developing inland and then crank up Monday night into Tuesday when the heaviest precipitation will fall. Near the coast we will see rain perhaps changing to sleet and snow late Monday Monday night into Tuesday mainly from Route 78 in New Jersey to NYC and Long Island.
Whether we see accumulating snow near the coast and perhaps down to Central New Jersey will hinge on the track of the upper feature which is being show to track a little further south with each model cycle. Typically heavy snow will fall in a band 40 to 120 miles north of the track of the upper feature and that would bring accumulating snow down as far south as perhaps Route 195 in New Jersey and it would certainly bring it as far south as Route 78 in New Jersey east to Long Island. We would be talking MINOR ACCUMULATING SNOWS for this area and not the 1 foot plus snows that would be likely much further north. Regardless of the snow side of this we have a the issue of strong northerly winds that will develop as the offshore low intensifies and we will see gusts at least of 30 to 40 mph developing late Monday night and lasting into Wednesday. Also we will be dealing with coastal flooding at high tides for the next couple of days with minor to moderate coastal flooding expected. Weather conditions should improve Wednesday as the storm moves away to the east.
Please note that with regards to any severe weather,  tropical storms, or hurricanes, should a storm be threatening, please consult your local National Weather Service office or your local government officials about what action you should be taking to protect life and property.