Winter Storm Watch Thursday 02092017
LATEST VIDEO ANALYSIS OF WINTER STORM THURSDAY
Winter Storm Watch Thursday 02092017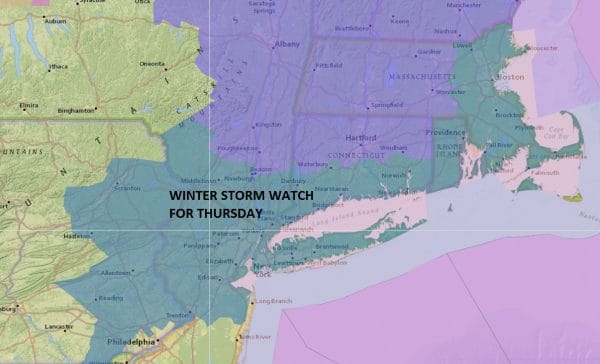 WHAT TO EXPECT
SNOW BEGINS THURSDAY FROM WEST TO EAST BETWEEN 4AM AND 7AM FROM NEW JERSEY TO LONG ISLAND
HEAVIEST SNOW WILL BE THURSDAY FROM 7AM UNTIL 3PM BEFORE TAPERING OFF FROM WEST TO EAST
SNOW ENDS THURSDAY AFTERNOON 3PM TO 7PM WEST TO EAST
The National Weather Service has issued a Winter Storm Watch for Thursday for New York City, Long Island, Hudson Valley, much of New Jersey north of Route 195 and Connecticut. Latest weather model forecasts continue to line up with the idea of a major winter storm developing off the Delaware Coast Thursday morning. As far as snow accumulations are concerned, I'm making no changes at the moment but it is possible that I may raise estimates across the entire area. The potential exists for the entire area to receive 6 to 12 inches.
JOE'S SNOW FORECAST MAP FOR THURSDAY
NAM MODEL FORECAST 1AM THURSDAY TO 4PM THURSDAY
CLICK TO ANIMATE
The NAM model remains consistent as it shows the developing storm moving off the coast and then moving northeastward bringing the heaviest snow bands right over the area. The NAM has led the way with this and other models have been pulled to its view so we are going to stick with it especially now that we are in the short range.
Meanwhile this evening we have rain to the north that continues to move away. Some lingering showers and patchy fog will occur tonight as temperatures slowly rise through the 40s. Wednesday we will see some sunshine with record highs in the mid 50s to lower 60s. Then it turns colder with snow arriving Thursday morning before daybreak. The heaviest snow will be during the morning until early afternoon before gradually tapering off and ending.

The maps below are the National Weather Service forecast snow maps with the most likely snowfall prediction.