Winter Storm Watch Super Bowl Sunday

Weather in 5/Joe & Joe Weather Show Latest Podcast
Winter Storm Watch Super Bowl Sunday
The first winter storm watches have gone up and they extend from Western North Carolina all the way to Coastal Southern and Southeastern New England. They include Washington, Baltimore, Philadelphia & NYC. The watches also cover Long Island, Southern Connecticut to Rhode Island, SE Massachusetts and Cape Cod.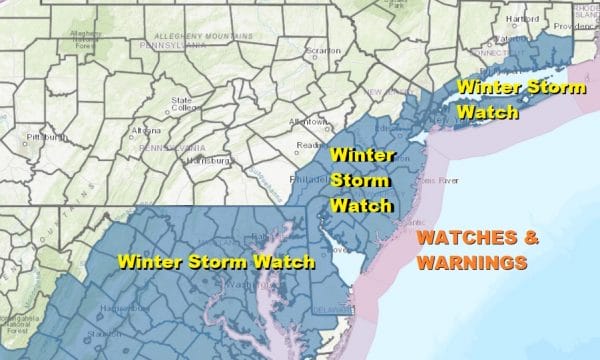 As for this evening and tonight, we cleared out nicely in many areas this afternoon as temperatures reached the 40s to near 50 degrees. Skies should partially clear tonight. Saturday should be a nice day overall with sunshine giving way to late day arriving clouds. Highs will be in the 30s to near 40.
SATELLITE

Precipitation has all but disappeared in most places on the regional radars and they will catch a break overnight and Saturday before revving up again Saturday night and Sunday.


Low pressure will be moving across the south and then making the turn up the East Coast Saturday night and Sunday. Weather models continue to get a little more amped with each run, increasing precipitation little by little until we have reached the point where many areas will wind up with 3/4 inch to 1 inch of melted precipitation. This is going to be a storm that favors heavy snow along the coastal plain and the big cities with lower accumulations as you head north and northwest of the coast.
The stronger low and the slightly more tucked in look near the coast favors a general 6 inches or more for many areas. from Delaware northeast through much interior Central and South Jersey to Southern Connecticut, NYC and Long Island. The 6 inch line should lie just north and west of I-95.


Here are the approximate arrival and departure times for precipitation. This is basically a 10 to 12 hour event. The storm will move along to the northeast south of Long Island and Southeast New England and there will be no lingering of snow from this system
Once this storm exits we should see colder weather Sunday night and Monday. On Tuesday an upper air disturbance will be approaching along with a weak low offshore. This could create a period of snow for us but it looks to be minor in nature. A more potent system looms for late next week that could produce snow and ice. We will get to that once we are finished with this one for Sunday.
Please note that with regards to any severe weather,  tropical storms, or hurricanes, should a storm be threatening, please consult your local National Weather Service office or your local government officials about what action you should be taking to protect life and property.