Winter Storm Watch Saturday Into Sunday Morning
Winter Storm Watch Saturday Into Sunday Morning
Winter Storm Watch continues for Saturday into early Sunday morning. Most of  Monmouth County has been added to the watch area which basically covers all areas north and west of the NJ Turnpike and most of Eastern Pennsylvania. The watch also covers the Hudson Valley along and south of Route 84 and all of Connecticut and Long Island. There are no snow issues tonight and most of the day Saturday. More on this later.
First off the last of the showers with today's cold front are moving through and skies should clear out after midnight from north to south. A quick shot of cold air is moving in and we will be down in the 20s by morning with teens in the cold spots north and northwest of the coast.
US SATELLITE

REGIONAL RADAR

LOCAL RADAR NEW YORK CITY
LOCAL RADAR PHILADELPHIA

Saturday starts with sunshine but we will quickly cloud up as a system from the southwest heads for the Virginia coast. This is where the forecast becomes tough. Low pressure develops and intensifies rather rapidly Saturday evening. This will cause snow to break out during the mid and late afternoon across New Jersey and in the early evening the Hudson Valley, Connecticut and Long Island. Literally north and west of I-95 it is all snow and in Connecticut I believe it will be all snow down to the coast.
For Long Island and Coastal New Jersey the snow/rain line will be very close so as little as a one degree temperature swing could make a huge difference in snow amounts. A slushy coating to an inch or 2 if rain is involved but if it is all snow several inches or more will accumulate even along coastal areas. Inland it is a general 3 to 5 inch snowfall. Late afternoon weather models were ever so slightly colder than the previous run so we will be monitoring for that 1 degree shift.
NAM MODEL FORECAST FOR SATURDAY CLICK TO ANIMATE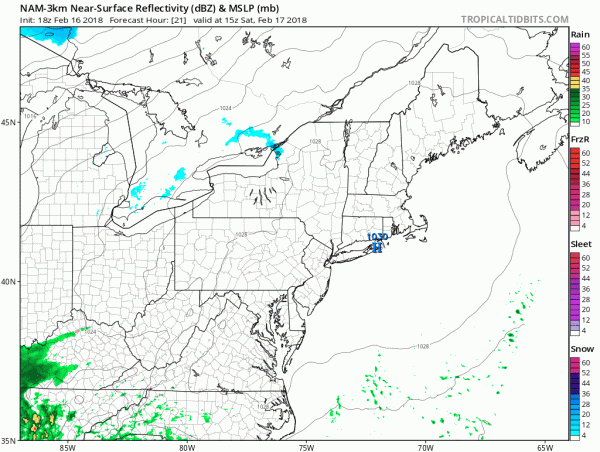 The NAM model late this afternoon shows the storm just offshore. The fast development is key because it cuts off the warm air and it allows for heavy snow to develop right along the immediate coast. All of this ends by early Sunday morning before daybreak.
This is my snow forecast. I think it is very fair and I will allow for the possibility that the snow areas may need to be adjusted somewhat especially for the coast where it could be colder. Either way it all starts to melt Sunday with sunshine and highs in the mid to upper 40s. Next week get ready for 50s Monday and 60s to near 70 Tuesday and 60s on Wednesday.

GET JOE A CIGAR IF YOU LIKE 
FiOS1 News Weather Forecast For Long Island
FiOS1 News Weather Forecast For New Jersey
FiOS1 News Weather Forecast For Hudson Valley
LATEST JOESTRADAMUS ON THE LONG RANGE