DOWNLOAD MY NEW FREE JOESTRADAMUS WEATHER APP FOR ALL DEVICES
THE APP IS ABSOLUTELY FREE TO ALL BUT CONSIDERING SUBSCRIBING TO PATREON FOR A WEATHER EXPERIENCE FREE OF ADS, EXCLUSIVE VIDEOS FOR MEMBERS ONLY AND MUCH MORE…STARTS AT $2 A MONTH..MESSAGE ME AT ANY TIME
Winter Storm Watch Continues Western New Jersey Eastern Pennsylvania
We didn't see anything overnight that creates any changes in my forecast outlook for Wednesday. Winter Storm Watch continues for Eastern & Southern Pennsylvania and Western New Jersey. We have already seen Winter Storm Warnings go up across Maryland and Virginia with a watch still up for Delaware at least for now.
Today however is a nice sunny winter day with highs just in the 30s after we hit bottom in the teens and lower 20s this morning. There are no weather issues for today and tonight starts clear before clouds arrive during the early morning hours with lows in the teens to lower 20s. There are no issues today of consequence on either the satellite or the radar loop.
EASTERN SATELLITE

REGIONAL RADAR

On to Wednesday and not much has really changed here from yesterday. Cold air that will be around Wednesday morning will erode rapidly during the afternoon and evening so it will be a simple matter of getting the snow in fast enough while cold air is here. It happens for areas south of NYC like Philadelphia, Baltimore & Washington but even here too we have a roaring Pacific jet bringing a a surge of warm air. I remain 50% lower than everyone else..i see no reason to raise and I see a lot of reasons why i could lower numbers here. The areas from NYC north and east might wind up seeing very little and for this area, it is quite possible I may be too high!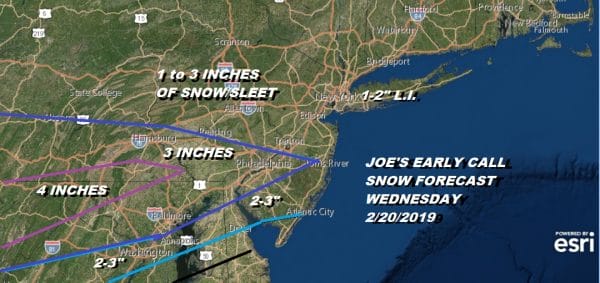 Clouds increase on  Wednesday. Snow which will be in DCA & Baltimore by daybreak will reach Philadelphia by late morning and NYC by mid to late afternoon. Then it is a matter of how many hours before it changes to sleet and then to rain. I have Washington DC in a zone of 2-3″ Baltimore and Philadelphia in 3-4″ , 1-3″ inches for NYC, the Hudson Valley & Connecticut, 1-2″ for Long Island. I would lean more toward the LOW side of the range than the high side.
The issue is a cold high going to an unfavorable spot off the New Jersey coast and more of a southeast to south flow verses last Tuesday with a high to the north and a northeast flow that kept cold air in. However much snow we get it changes to sleet and rain from south to north later Wednesday and Wednesday evening and then it all ends overnight as rain. Thursday we head up to the 50s to near 60 with leftover clouds.
Friday and Saturday look nice with sunshine and highs in the 40s. Then the next chance for rain is Sunday as low pressure heads towards the Great Lakes. The overall longer range pattern remains unfavorable for prolong cold into next week. I'm anticipating the Pacific jet to take a breather for a week to 10 days in March so that will likely be your last chance for any snow of consequence. Then spring arrives and arrives on time this year.
MANY THANKS TO

TROPICAL TIDBITS

FOR THE USE OF MAPS
Please note that with regards to any tropical storms or hurricanes, should a storm be threatening, please consult your local National Weather Service office or your local government officials about what action you should be taking to protect life and property.