Winter Storm Warnings Winter Weather Advisories
Wind Advisories Posted For Saturday

Winter Storm Warnings Winter Weather Advisories
Wind Advisories Posted For Saturday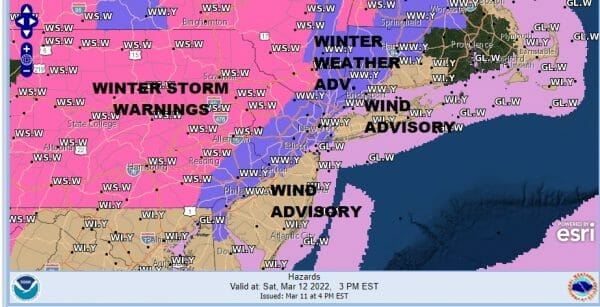 Winter Storm Warnings are up for Northwest New Jersey, much of Eastern and Central Pennsylvania, the Hudson Valley from Orange County north and northwest into the Catskills. Winter Weather Advisories are up for the rest of Northern New Jersey mainly along and northwest of the NJ Turnpike. Advisories are also posted for the rest of the Hudson Valley, most of Connecticut, to NYC. Long Island (Nassau and Suffolk Counties) is excluded from the Winter Weather Advisory for the time being. In addition we have wind advisories for New Jersey, Eastern Pennsylvania, Southeastern NY Long Island and the southern Connecticut Counties.
The heaviest snows will be to the west and away from the coast. I nudged amounts a little higher from my early call but the changes were small, basically moving the numbers an inch or so higher. When this ends later Saturday afternoon and evening, the next issue will be the falling temperatures which will freeze up any standing moisture. Many areas from New Jersey and the Hudson Valley to NYC Long Island and Connecticut will start as rain which means roads probably may not be treated ahead of time.
SATELLITE

WEATHER RADAR

There are no weather issues this evening or for much of tonight as the radars are quiet for now. This is a fast moving weather system which limits how much if any upside there will be from this system. We will see clouds that are now across the Southern US advance northeastward tonight as low pressure moves across the deep south and then makes the turn up the East Coast.
The HRRR loop above runs from 7am Saturday until 10pm. Rain in the morning changes over to sleet and then a burst of heavy snow as the cold air moves eastward beginning at around 9am in Western New Jersey and reaching NYC around noon time and on Long Island shortly afterwards. It comes to an end from west to east late in the afternoon in Eastern Pennsylvania and Western New Jersey and after 7pm to the east of NYC. It appears the storm is slower to get here so it lasts a little longer. Temperatures will be falling slowly through and eventually they will be in the 20s Saturday evening. By Sunday morning lows will be in the teens to near 20. Winds from the north and northwest will increase to 20 to 30 mph with some gusts to 50 mph especially along the coast. Weather conditions will improve Sunday but it will still be on the windy side with sunshine. Highs Sunday will be back into the 30s by afternoon.
Please note that with regards to any severe weather,  tropical storms, or hurricanes, should a storm be threatening, please consult your local National Weather Service office or your local government officials about what action you should be taking to protect life and property.