Winter Storm Warnings Winter Weather Advisories Ice Storm Warnings Posted Northeast US
We bring in December with the first widespread winter storm of the season. Winter Storm Warnings are posted for parts of Northwest New Jersey and Northeastern Pennsylvania, north and west into the Catskills and toward and north of Albany. Winter Storm Watch remains in effect for the rest of the Hudson Valley and much of Connecticut. Winter Weather Advisories are up for Southeastern Pennsylvania and much western New jersey in areas south of Route 78 and northwest of the NJ Turnpike. Ice Storm Warnings are posted for areas further west in Pennsylvania where up to a half inch of ice could accumulate Sunday morning.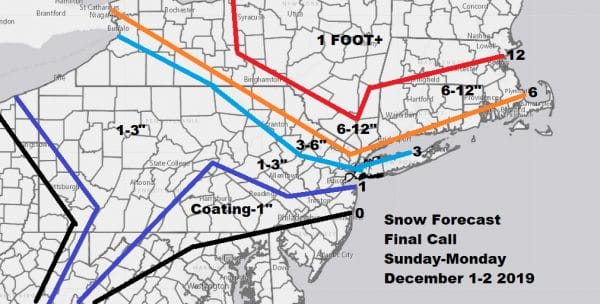 I'm not making any forecast changes at this time regarding total snowfall. Remember that this is a 2 day event and that some areas will get their snow more on the back side later Monday and Monday night while other areas further to the north in upstate NY and New England will dealing with snow and other varieties of winter weather for much of  Sunday and Monday.
SATELLITE

Let's look around at weather conditions this evening and their are no issues to worry about for much of the area overnight into daybreak Sunday. High clouds are going to be coming in from the west and south overnight so we may start off clear but we should cloud over tonight. It will be a cold night which is very important in setting up the situation for Sunday. Lows will be in the 20s to low 30s but you will also see lows in the teens further north.
As far as precipitation is concerned there is nothing on the regional radar close by but as the night wears on, rain will be developing across Western Pennsylvania and we do have rain also to the south in North Carolina that will eventually spread northward into Virginia and the two areas will begin advancing norhteastward during the early morning hours.
REGIONAL RADAR

The first thing that happens is freezing rain and sleet will develop across most of Pennsylvania overnight and it will be concentrated in the ice storm warm area from South Central Pennsylvania west and north. By daybreak the leading edge of the precipitation will be covering much of that state and getting ready to spread over New Jersey Sunday morning and into areas north and east of NYC by midday. snow will develop over the northern edge of this precipitation shield and expand over the Hudson Valley and into New England Sunday afternoon.
For areas from NYC to Philadelphia south and southwest the change to rain comes quickly but there could be a brief burst of snow or sleet in these areas that puts down a quick coating to an inch or so. The sleet/freezing rain/rain line will get to just north of NYC somewhere near or just north of Route 287 in the Hudson Valley and come to a grinding halt. Heavy snow will fall north of that line where 1 foot plus snows are possible. Again reference the snow forecast maps for total amounts. This continues Sunday night into Monday. Areas to the south around NYC, Long Island and points southward will see rain which may actually end for awhile Sunday night.
Monday the snow/rain line will be moving in the other direction and dropping southeastward as low pressure stalls off the New Jersey coast Monday and cold air is drawn southward. Rain will change to snow Monday afternoon or evening along coastal areas and this is when the coast may pick up accumulating snows of up to a few inches in spots while inland areas will continue to add to their amounts.
Final snow totals should shape up to the map above which is the National Weather Service snow forecast map for this storm. The low finally pulls away to the northeast and it should be done by Tuesday morning. One thing the coast needs to be careful of is the upper air low which is strong and will be moving overhead Monday night which opens up the possibility of an upside surprise.
National Weather Service snow forecast maps are available from Maine to South Carolina on my free weather app. Download the free apps and follow the winter weather across the Northeast all winter long.
MANY THANKS TO TROPICAL TIDBITS FOR THE USE OF MAPS
Please note that with regards to any severe weather,  tropical storms, or hurricanes, should a storm be threatening, please consult your local National Weather Service office or your local government officials about what action you should be taking to protect life and property.