Winter Storm Warnings Winter Weather Advisories
Cover Mid Atlantic Northeast

Weather in 5/Joe & Joe Weather Show Latest Podcast
Winter Storm Warnings Winter Weather Advisories
Cover Mid Atlantic Northeast
There have been no changes in the area coverage in the the warnings and advisories so far but my guess is based on the radars and surface observations that we may see winter storm warnings extended to areas around NYC and Long Island and possibly Southern Connecticut. Elsewhere we are seeing everything happening about as advertised.
Most snowfall estimates for now either remain the same or they have been slightly lowered by an inch or two in some places. Based on what is on the radar most of these numbers should be met.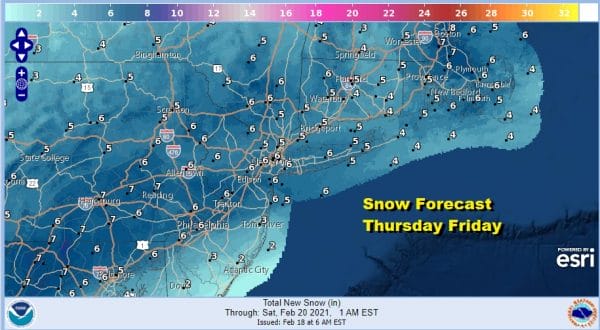 However I am toying with the idea of raising snow estimates and may do so later this morning across New Jersey and particularly from NYC east across Long Island due to models showing a more robust lead wave and now a more robust second wave  for late tonight into Friday.
In the meantime we see the first wave of low pressure producing clouds everywhere this morning and the radars got busy in a hurry.
SATELLITE

Moderate to heavy snow bands are expanding on the regional radar views and lifting to the northeast  quickly . Snow will fall heavy at times this morning into this afternoon and then end from west to east during the afternoon across Pennsylvania and New Jersey and early evening from NYC east.


During tonight we basically see light precipitation and then we will watch for a second round of snow coming up from the south late tonight and continuing into Friday. If this wave does indeed materialize we could see an additional few inches from it. Temperatures through all of this will hold in the upper 20s to lower 30s. Weather conditions improve for the weekend as both Saturday and Sunday will be sunny and cold.
No changes in my snow forecast map for now but inside those 2 6 inch bands I would not be surprised to see amounts higher by 20 or 30%. Again we will wait until later this morning regarding raising snow estimates.

Please note that with regards to any severe weather,  tropical storms, or hurricanes, should a storm be threatening, please consult your local National Weather Service office or your local government officials about what action you should be taking to protect life and property.