Winter Storm Warnings Snow Ice
North Georgia To Carolinas, Southwest Virginia

Weather in 5/Joe & Joe Weather Show Latest Podcast
Winter Storm Warnings Snow Ice North Georgia To Carolinas, Southwest Virginia

We have a wide variety of watches and warnings that are up for late tonight into Sunday night across the Deep South and Southeastern US. Winter Storm Warnings cover much of Northern Georgia including the northeastern mountains. Warnings extend into Western & Central North Carolina and Southwest Virginia. Ice Storm Warnings are up for northern South Carolina with up to 3/4 inch of ice accretion forecast in some areas. This is going to be a significant snow and icing event.
SATELLITE

WEATHER RADAR

Today into this evening there are no weather issues other than we are priming the atmosphere for Sunday into Sunday night. Clouds have increased and we are seeing the radars beginning to rev up but this is rain we are seeing on the southeast US radar and not snow. That will not come until later tonight into Sunday morning as a wedge of cold air builds southward down the East Coast from a bitter cold air mass in the Northeast.
The map above is for 7am Sunday and freezing rain extends into Northeast Georgia from the Western Carolinas. Three factors are in play for Sunday in that the wedge of cold air will be pressing in from the northeast. Low pressure over Southwest Georgia heads for the Carolina coast. Finally and most importantly is the track of a very vigorous upper air low pressure system that is driving all of this.
The upper air storm is a cold feature in the upper atmosphere and it is colder as you go Higher. When it is vigorous like this, cold air from above mixes down to the surface cooling the lower levels. When you have a strong upper low like this you can get bands of heavy snow to develop to the west and northwest of the upper low center. It is in situations like this that someone could wind up with a surprise so this will need to be monitored carefully on Sunday. This means those in the winter storm warning area have the greatest risk for an upside surprise and the higher the elevation the greater the risk. Below is the loop of the surface map which matches the upper air map above. The time frame starts at 7am Sunday and ends at 1am Monday. That is the time frame where we see the highest risk for precipitation.
In terms of snow and ice amounts we have the National Weather Service snow and ice forecast maps below but to put it into some context we also have the Weather Prediction Center's forecast probability for at least 2 inches of snow accumulation and these percentages are rather high.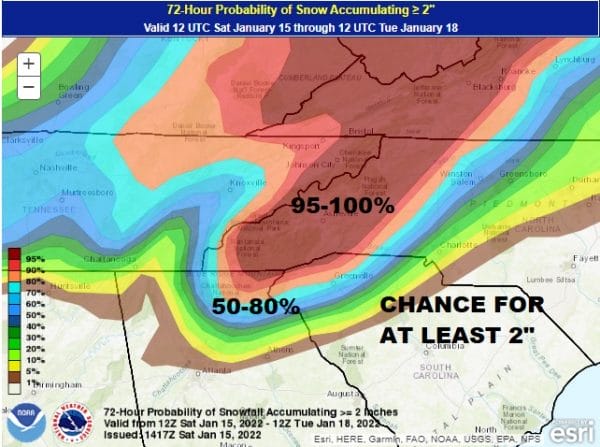 This is my first experience with dealing with southern systems directly. I have over 40 years of forecasting experience and the vast majority of my career I have been forecasting for the Northeast US. I'm still learning the quirks of the local climate here in Northeast Georgia and I have found it a bit challenging. I'm hesitant to put out my own specific forecast here but I think that there is room and there probably will be some upside surprises in snow amounts. Also be aware of elevation as that will of course significantly impact snow amounts. I'm thinking that above 2000 feet, snow amounts could wind up being double or even triple what falls below 2000 feet. Finally we have Atlanta and snow lovers there are wondering whether the streak of nearly 1500 days (4 years) of not seeing measurable snowfall comes to an end Sunday. I think you have a shot to end the streak.
SNOW FORECAST MAPS ACROSS THE SOUTH
SOUTHEAST VIRGINIA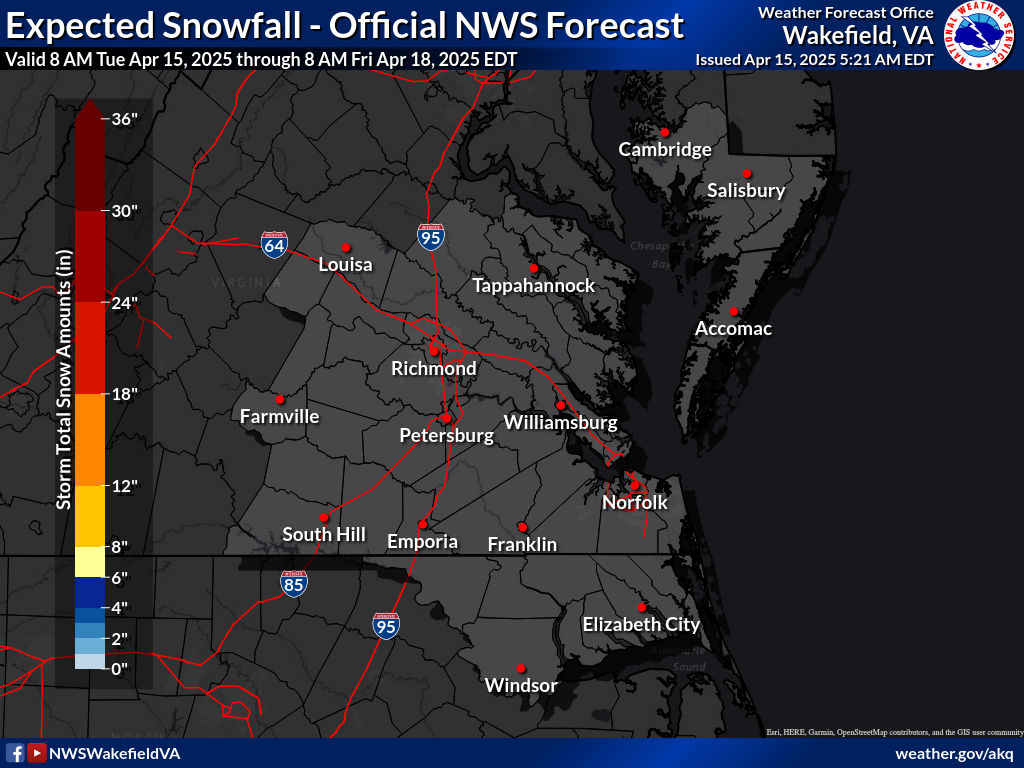 WESTERN VIRGINIA INTO WESTERN NORTH CAROLINA

WESTERN NORTH CAROLINA & SOUTH CAROLINA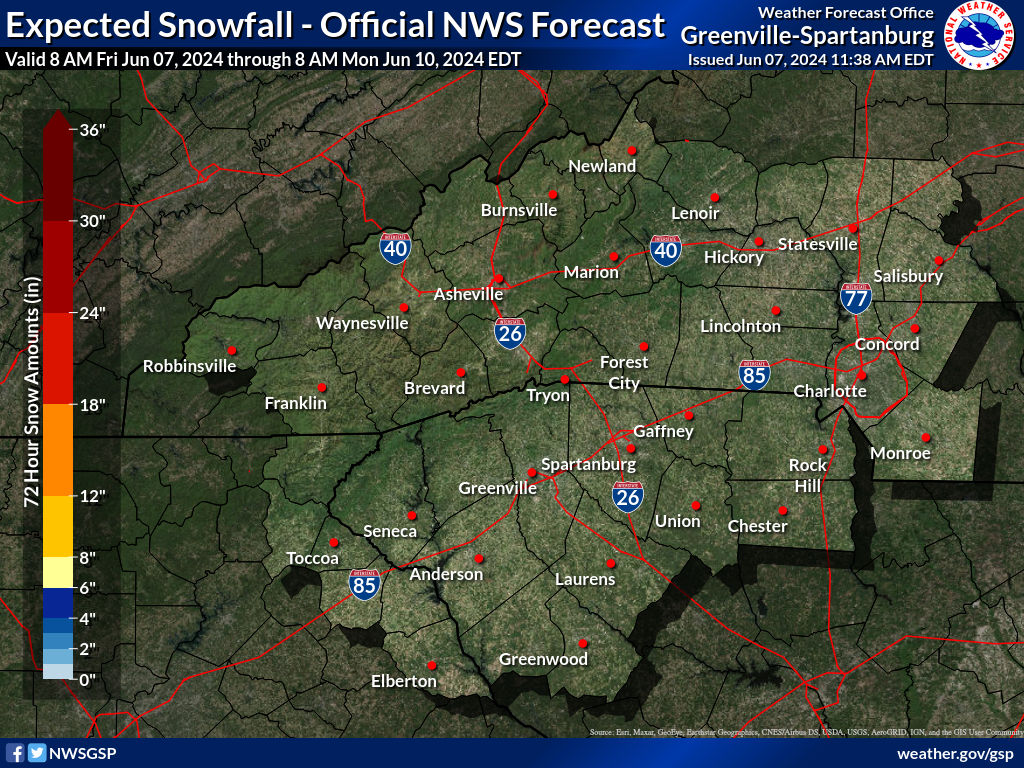 EASTERN NORTH CAROLINA
Georgia
Western Carolinas Ice Forecast
Georgia Ice Forecast

Please note that with regards to any severe weather,  tropical storms, or hurricanes, should a storm be threatening, please consult your local National Weather Service office or your local government officials about what action you should be taking to protect life and property.