DOWNLOAD MY NEW FREE JOESTRADAMUS WEATHER APP FOR ANDROID

THE APP IS ABSOLUTELY FREE TO ALL BUT CONSIDERING SUBSCRIBING TO PATREON FOR A WEATHER EXPERIENCE FREE OF ADS, EXCLUSIVE VIDEOS FOR MEMBERS ONLY AND MUCH MORE…STARTS AT $2 A MONTH..MESSAGE ME AT ANY TIME
Winter Storm Warnings Northeast
Winter Storm Watches Continue Across Eastern Pennsylvania to Southern New England
Snow This Morning Tapering Off
The overnight weather system is finishing up this morning with most of the area getting to a coating to an inch or so of accumulation breaking the snow drought that has stretch of 64 days since the Novermber 15th storm. Low pressure is developing well offshore. The upper air trough that is producing all this will be headed out to the east and before too long we will just have leftover clouds for the rest of the day. Temperatures will be in the 30s to some spots perhaps getting close to 40 which should get rid of most of has fallen.
EASTERN SATELLITE

REGIONAL RADAR

Regional and local radars show snow moving eastward. The snow is patchy and light and headed offshore. There is also some snow moving across update NY and heading into New England. Radars will shut down later today until they rev up again Saturday.
LOCAL RADAR NEW YORK CITY
LOCAL RADAR PHILADELPHIA

Now we move on to Saturday. Clouds will increase with temperatures mostly in the 20s. Snow will develop from west to least late in the afternoon and early evening. Winter Storm Warnings have already gone up up for areas from Northern Pennsylvania across New York State and New England. The areas where the warnings have gone up are areas where a foot or more of snow is likely.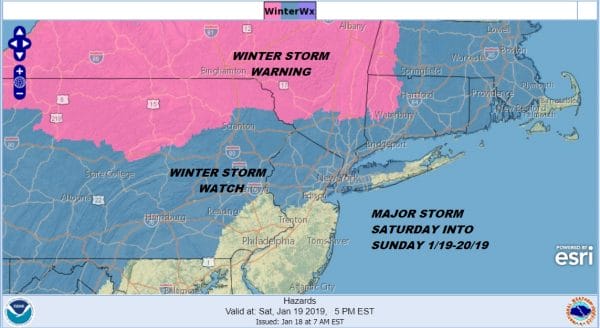 Overnight weather models continue the colder trend and the biggest worry yesterday was that the 32 degree temperature line would have a tough time moving northward beyond NYC. This trend continues  this morning. NAM models were even colder at the low levels. Snow lasts a big longer and in fact there could be some thundersnow with this tomorrow night as the rain snow line approaches NYC around midnight.
The NAM did very well with this system today unlike the global models that either had very little or in fact had all rain. So much for that. The nam model i believe has the better idea regarding the colder atmosphere that we are seeing. It is all going to be about the 32 degree line at the surface and how far north does it get. The NAM keeps temperatures below freezing for all areas
Basically areas north and west of the turnpike (i-95) never get above freezing. By Sunday morning the temperatures begin to plunge on the back side of the storm which will begin to pull away with snow sleet or freezing rain coming to an end perhaps as some snow. Then temperatures fall through the 20s. Standing moisture freezes up and skies clear out in time for the lunar eclipse Sunday night. Winds will be picking up with gusts to 40 mph from the north. By Monday morning temperatures will be in the single digits and even below zero north and west of the warmer urban centers.
Monday's highs will be brutal with some areas never getting out of the single digits and lower teens followed by another night of single digits and below zero readings going into Tuesday morning. Highs Tuesday should make it back into the 20s.
The map above was my call from yesterday and I think it stands this morning with no changes. I would think that these numbers should be easily achievable and if the colder trends continue we may have to massaging numbers higher. The ice storm risk is real here for inland areas so bear that in mind in your preparations for this major winter storm.
MANY THANKS TO

TROPICAL TIDBITS

FOR THE USE OF MAPS
Please note that with regards to any tropical storms or hurricanes, should a storm be threatening, please consult your local National Weather Service office or your local government officials about what action you should be taking to protect life and property.