Winter Storm Warnings Extended Southward New Jersey
Winter Weather Advisories Eastern Counties Round 2 Monday
Winter Storm Warnings Hudson Valley Connecticut Advisories NYC Western Long Island
The first round continues to play through and we watch the redeveloping low along the Delaware/NJ coast and the strong upper low coming in from the west, it appears that we will see some backside snows Monday and Monday night. Winter Storm Warnings have been expanded in NJ to include Hunterdon & Mercer Counties and Winter Weather Advisories include all counties except the southern most counties of the state.  Winter Weather Advisories are not also posted for NYC and for Northern Nassau County on Long Island. I think they may eventually be expanded eastward into Suffolk County for Monday night into Tuesday morning.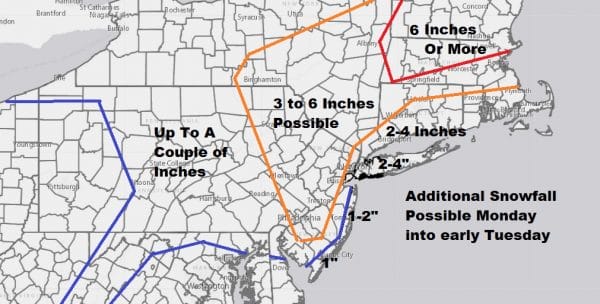 The map above is additional snowfall to whatever is on the ground. Obviously some areas have no snow on the ground from this first shot playing through so this would be new snow cover for you. The rest of you can add these numbers to whatever snow and sleet you already have. This is for the daytime Monday from NYC west and for most of the area Monday night and ending early Tuesday morning.
SATELLITE

REGIONAL RADAR

Regional radar is still rather busy with precipitation ranging from rain over Central and South Jersey and in Southern Pennsylvania where temperatures have risen to the upper 30s to mid 40s in some areas while north of NYC it remains considerably below freezing and we are getting snow sleet and freezing rain which will continue into this evening.
LOCAL RADAR NEW YORK CITY
LOCAL RADAR PHILADELPHIA

This first shot winds down and then the coastal storm stalls offshore all day tomorrow and tomorrow night. The upper low to the west pivots its energy around to the coast and we start to see snow redevelop tomorrow morning on the backside and then gradually moving eastward. The heaviest snows will likely be between 1pm Monday and 1am Tuesday except for Long Island and Southern New England where it will be from 7pm Monday to 7am Tuesday.
Upper lows can surprise and it seems that models are beginning to catch on to the idea that there will be a surprise here on the backside. The banding nature of a case like this means that some areas will get more than others and snow amounts may vary over relatively short distances. It will all be over with Tuesday as weather conditions begin to improve.
National Weather Service snow forecast maps for the entire East Coast area available on my free weather apps.
MANY THANKS TO TROPICAL TIDBITS FOR THE USE OF MAPS
Please note that with regards to any severe weather,  tropical storms, or hurricanes, should a storm be threatening, please consult your local National Weather Service office or your local government officials about what action you should be taking to protect life and property.