Winter Storm Warnings Expanded Northeast PA,
Winter Weather Advisories Extended Into More of North & South Jersey

Weather in 5/Joe & Joe Weather Show Latest Podcast
Winter Storm Warnings Expanded Northeast PA,
Winter Weather Advisories Extended Into More of North & South Jersey
Coastal Flood Warning Southeastern New England to Southern New England Long Island & Now Extended Southward through Monmouth County New Jersey, Advisories to Delaware
Some additional changes to the forecast have been made for this evening. We have an extension of Winter Storm Warnings in Northeast Pennsylvania and also in the Catskills where more counties have been added. Also Winter Weather Advisories have also been extended to the east in Northern New Jersey to add all of Passaic and Western Bergen County as well as the counties in Southwest New Jersey. Other counties to the east remain outside the advisory zone. Also in Connecticut advisories are added to the southern counties down to I-95.
SATELLITE

WEATHER RADAR

Clouds are increasing and snow is approaching from the south. We have been seeing moderate to heavy snow in the Baltimore/Washington DC late this afternoon. On the radar notice that the echoes are moving northward so what is falling in Washington is heading for South Central PA. Echoes in Delaware are increasing but much of that is light rain. It is really a matter of temperatures which could be a degree or two higher or lower and the rate at which the precipitation arrives. It might add an extra hour or so where it is cold enough for snow or sleet/freezing rain but ultimately it will go to rain later this evening and tonight.
I'm using the HRRR model here from 5pm tonight until 7am Monday. It has precipitation spreading northward, arriving in NYC by 8pm and reaching Boston by 1am. The model also shows heavy rain and thunderstorms moving northward after the change over and we are on course regarding the coastal issues of strong winds gusting to over 50 mph at times and coastal flooding at the Monday morning high tide. Moderate to pockets of major coastal flooding are likely for the morning high tides in the Coastal Flood Warning zone. Weather conditions are forecast to improve later in the morning and afternoon as the storm continues to move northward.
SNOW FORECAST MAPS
New York City, Ne NJ, HV, LI, Coastal Ct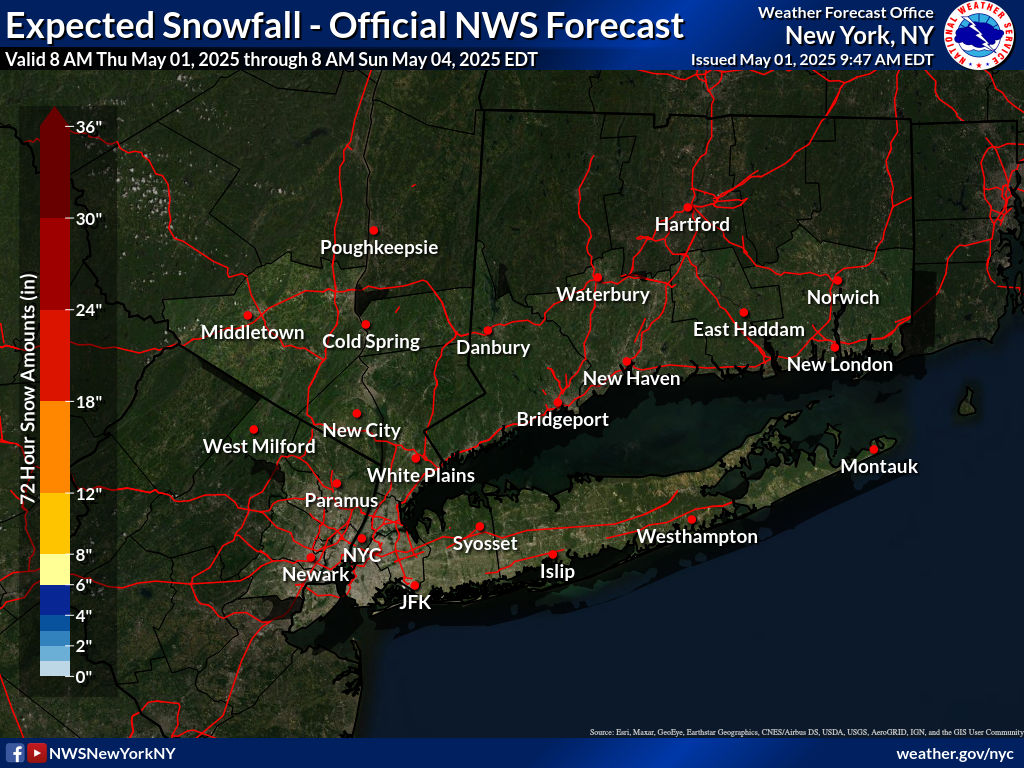 SOUTHEAST NEW ENGLAND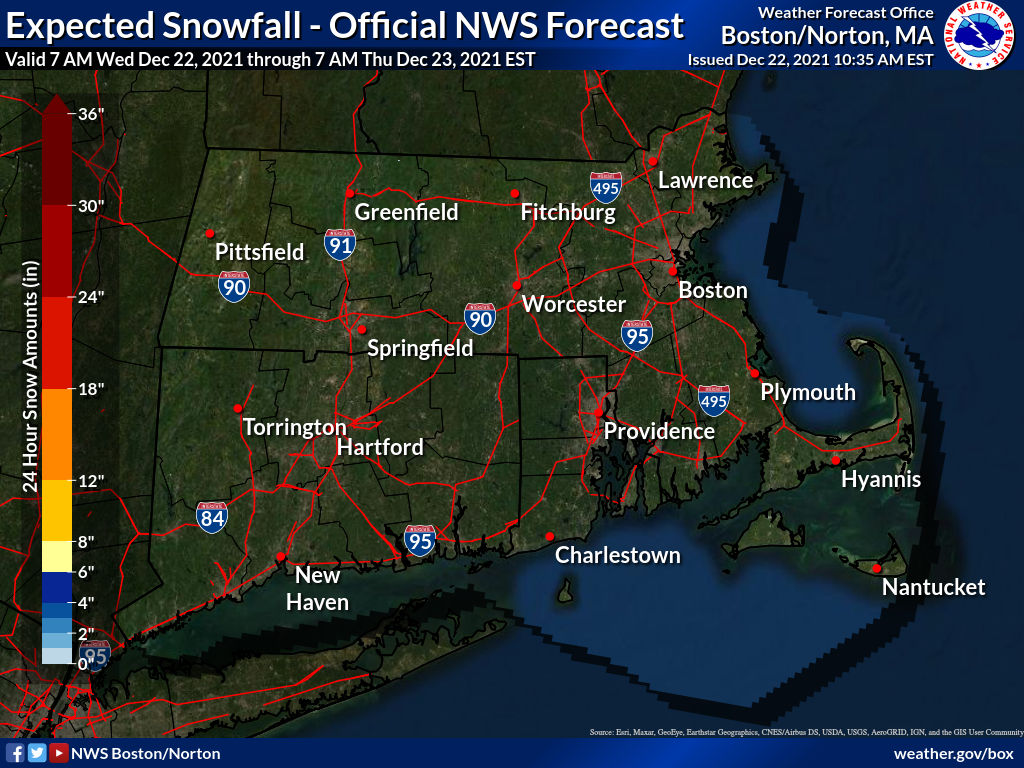 NEW JERSEY & PARTS OF NE PA
NORTHERN NEW ENGLAND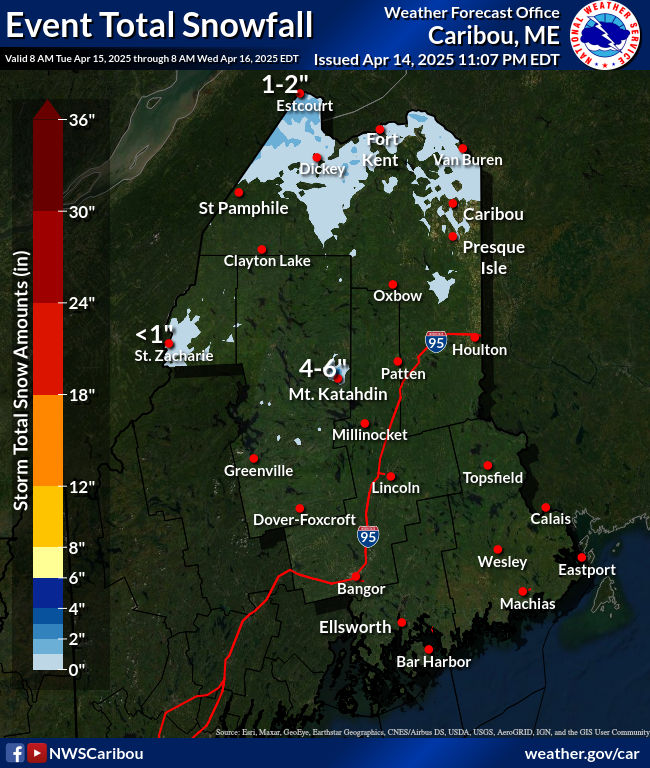 WESTERN NEW ENGLAND
MIDDLE AND UPPER HUDSON VALLEY
CENTRAL NEW YORK & NE PA
WESTERN NEW YORK
CENTRAL & SOUTH CENTRAL PA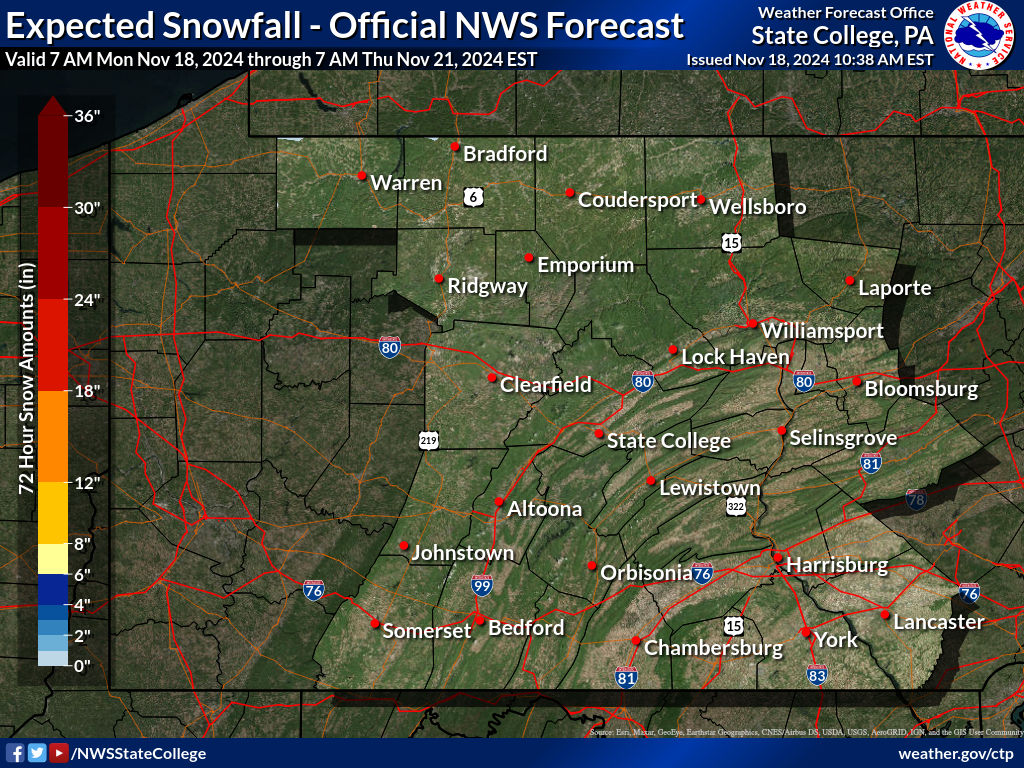 WESTERN PENNSYLVANIA EASTERN OHIO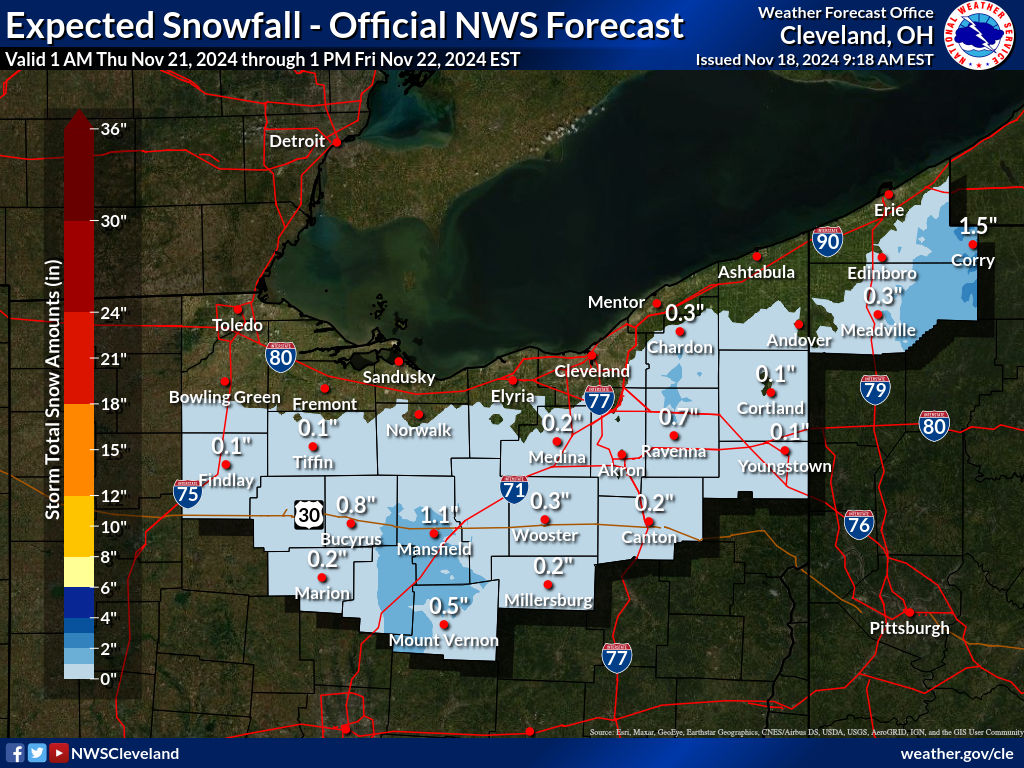 VIRGINIA & MARYLAND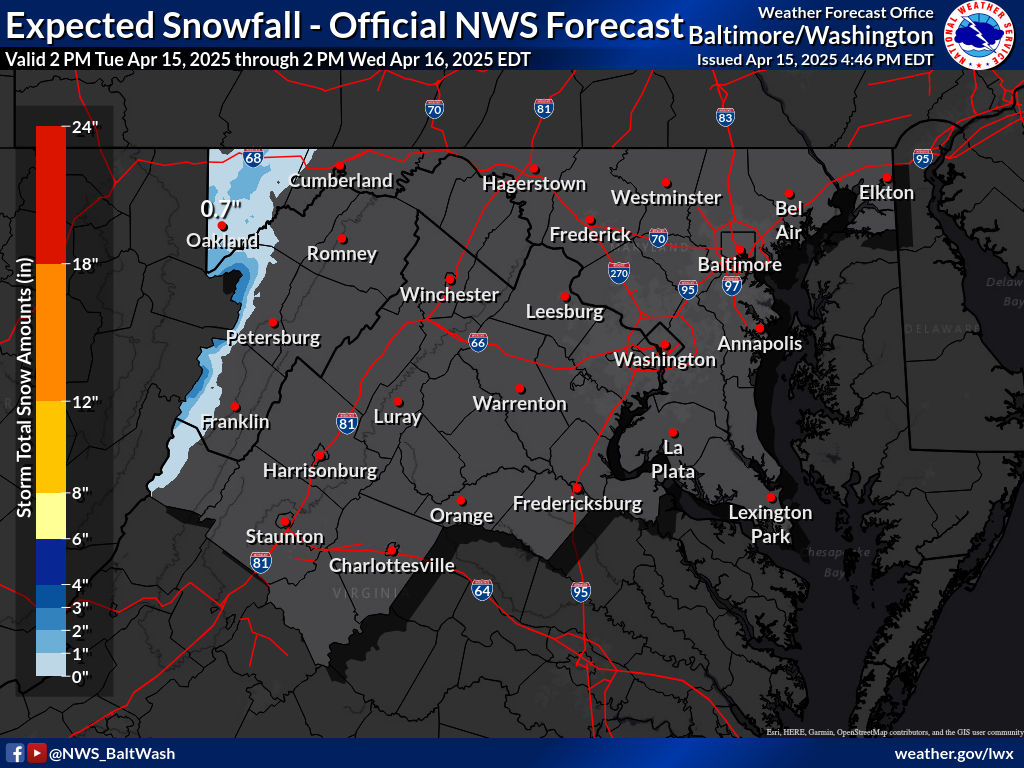 Latest snow forecast maps have been updated this evening. A few areas on the eastern flank have been nudged a little higher with snow amounts but not by much.

Please note that with regards to any severe weather,  tropical storms, or hurricanes, should a storm be threatening, please consult your local National Weather Service office or your local government officials about what action you should be taking to protect life and property.