Winter Storm Warnings Continue Across Georgia to the Carolinas & Virginia

Weather in 5/Joe & Joe Weather Show Latest Podcast
Winter Storm Warnings Continue Across Georgia to the Carolinas & Virginia
It has been quite a morning across the South as intensifying low pressure and its associated upper air storm are moving eastward. The low has a long way to go yet. Overnight into this morning the cold wedge build southward and we saw rain snow and ice as far west as the Northern Alabama and Georgia state line. Now the upper low to the west of the surface low is coming into play and that will change rain to snow just about everywhere.
Winter Storm Warnings continue across North Georgia to Western South Carolina, Most of Western & Central North Carolina and into Central and Western Virginia. Also we are seeing warnings in surrounding states with Winter Weather Advisories south into Central Georgia including Atlantic. Advisories also extend back into Alabama and Mississippi and in the Eastern Carolinas. It should be noted that a High Wind Warning in North Georgia has played out as advertised with 50 mph wind gusts reported and numerous trees and powerlines down.
SATELLITE

WEATHER RADAR

Satellite and radar are showing the precipitation in the Carolinas is mostly snow and ice with rain to the east. To the west now we are seeing colder air changing rain to snow across Georgia and points westward and that is where the forecast is headed for this afternoon.
The loops above and below are from the storm from 10am today until 1am Monday. The surface storm is moving along to the northeast and will make the turn into the Carolinas. However the loop below is what we need to pay attention to and that is the track of the upper air low at 18,000 feet. Bands of heavy snow will fall in an area extending about 100 miles or so north of the upper low track. In this zone we could see some surprises in accumulation, especially in elevations above 2500 feet.
So we watch and wait to see what happens this afternoon. Below we have the snow forecast maps for areas across the South and Southeast US. Note that accumulations will be higher with elevation especially above 2500 feet. Also beware that there could be some upside surprises just to the north of the upper low track. This should all come to an end during the early morning hours Monday followed by very cold conditions to start the new week.
SNOW FORECAST MAPS ACROSS THE SOUTH
SOUTHEAST VIRGINIA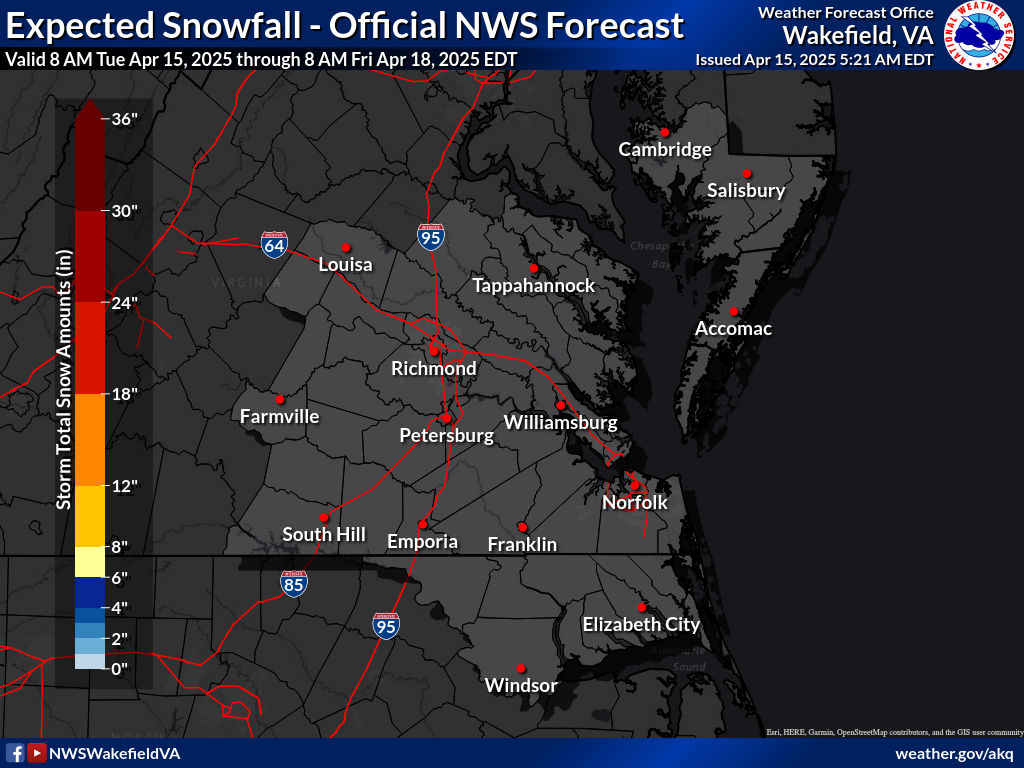 WESTERN VIRGINIA INTO WESTERN NORTH CAROLINA

WESTERN NORTH CAROLINA & SOUTH CAROLINA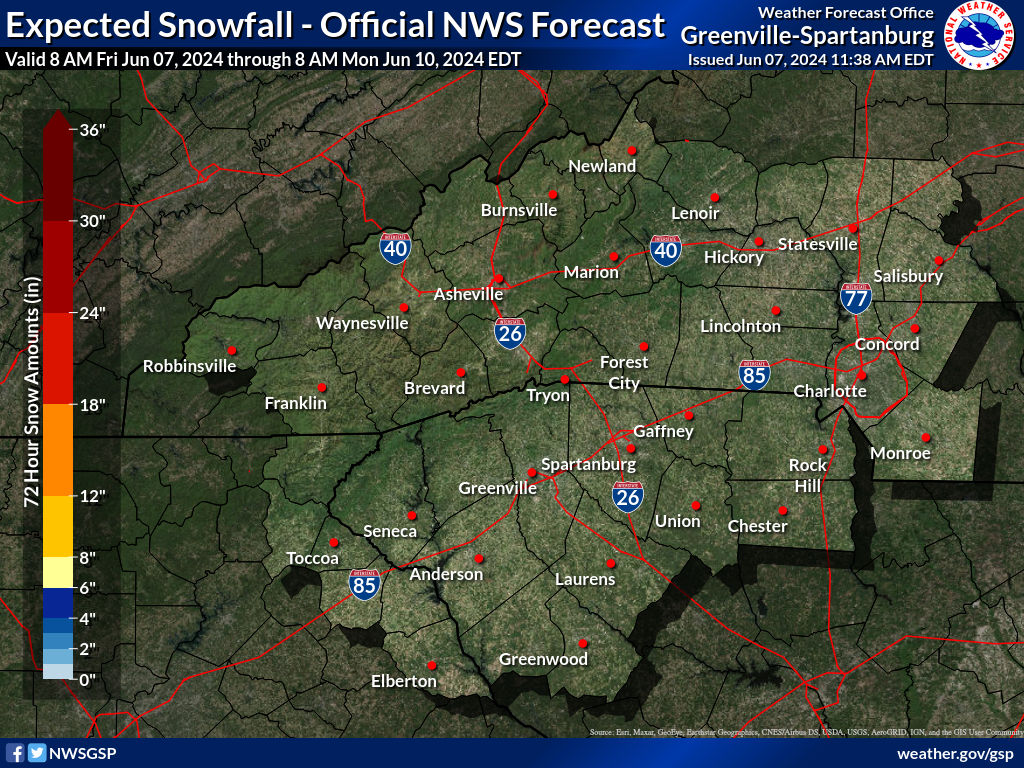 EASTERN NORTH CAROLINA
Georgia

Please note that with regards to any severe weather,  tropical storms, or hurricanes, should a storm be threatening, please consult your local National Weather Service office or your local government officials about what action you should be taking to protect life and property.