Winter Storm Warnings Catskills Berkshires Cold Rain Coast
Snow lovers were likely looking out the window and counting the flakes this morning and that is about all it is regarding the coastal areas in the I-95 corridor. Well inland we have an elevation driven spring snow event for the interior Northeast. Winter Storm Warnings are up for the Catskills and Berkshires with warnings also for Southern Vermont and New Hampshire. Winter Weather Advisory posted for Northeastern Pennsylvania.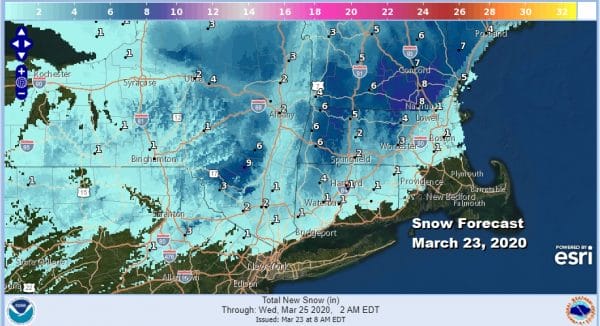 National Weather Service snow forecasts are nudged higher in areas where elevation plays a role. For everyone else and even in the southern areas that get a little bit of snow it will be changing to rain anyway. This makes for a raw cold day across the Northeast. Temperatures will likely hold in the mid 30s to lower 40s for most areas.
SATELLITE

REGIONAL RADAR

Radars both regional and local are showing areas of precipitation with rain from New Jersey southward and some snow in an area moving into New England. More rains are developing to the southwest that will be pushing in this afternoon into this evening. Total precipitation of 3/4 inch to an inch and a quarter still seems the most likely outcome.
LOCAL RADAR NEW YORK CITY
LOCAL RADAR PHILADELPHIA

Weather conditions will improve tonight with leftover clouds and lows in the 30s. Tuesday we will see sunshine breaking out at least for awhile and then clouds will arrive. Temperatures will reach up into the 50s.
Wednesday brings the next weather system moving from west to east and it looks like the low will pass to our south. There isn't much cold air around so this is going to be mostly rain again with some wet snow in elevated areas. Temperatures will be in the raw upper 30s to mid 40s on Wednesday. The pattern continues to remain busy for the rest of the week with another system bringing some showers on Friday and it looks like there could be more rain at some point over the weekend as the next weather system moves into the Great Lakes.
MANY THANKS TO TROPICAL TIDBITS FOR THE USE OF MAPS
Please note that with regards to any severe weather,  tropical storms, or hurricanes, should a storm be threatening, please consult your local National Weather Service office or your local government officials about what action you should be taking to protect life and property.