Winter Storm Warning Sunday Delaware Southeast Pa, New Jersey, NYC, Westchester, Long Island, Coastal Southern New England

Weather in 5/Joe & Joe Weather Show Latest Podcast
Winter Storm Warning Sunday Delaware Southeast Pa, New Jersey, NYC, Westchester, Long Island, Coastal Southern New England
Winter storm warnings are posted for Sunday covering a large area from Virginia to Coastal Southern and Southeastern New England, This includes Washington, Baltimore, Philadelphia, NYC, Westchester, Most of New Jersey and Southeast Pennsylvania, South Coastal Connecticut, Long Island, as well as Southeastern New England including Cape Cod and the islands. areas just to the north and west of the coast are under either Winter Weather Advisories or Winter Storm Watches.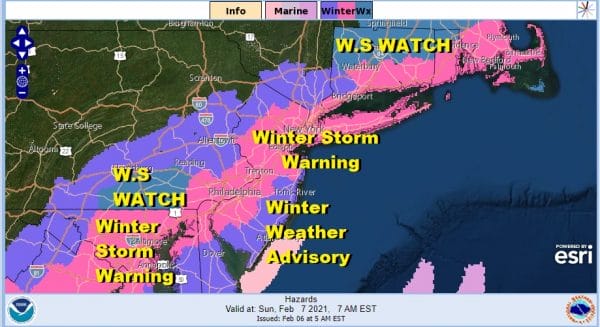 Snow forecasts made yesterday evening were pretty much left alone. This works out to a zone of 5 to 8 inches in the areas under warnings with less than 5 inches indicated for areas under a winter weather advisory.
My original idea regarding this event was that it would be a 3-6/4-8 inch event which is where I still am with this storm system. I don't believe there is much upside here to be gained mainly because this is a fast moving system as we indicated yesterday. Arrival and departure times remain about the same.
Before we get to Sunday we have today and it looks to be a nice day all the way around. We had clear skies overnight and the satellite shows us nice and clear today for the most part. So look for sunshine for much of the day. Perhaps some high clouds start to show up late today or this evening. Highs will be in the 30s to around 40 degrees.
SATELLITE,

Some renegade bands of snow showers are showing up on the radars this morning well inland but other than that it is a precipitation free day across the region so enjoy it.


We cloud up tonight as low pressure develops in the Deep South and turns northward toward North Carolina by morning. Then it is northeast from there passing east of Delaware and south of Long Island on Sunday. It will be a fast mover so there is a window of 6 to 8 hours for snow to accumulate.
Overnight models seemed a little less amped with this storm system. We could be seeing a little back and forth regarding the models and output here so the best course is to just leave things as is for now and if there is some adjusting to do with snow amounts, we can do that later today. We do know that this will not turn into anything even remotely resembling our storm from earlier in the week.
More winter weather is in store for next week. First we have Tuesday which is an upper air disturbance and a weak front that goes by with some rain or snow showers again. Then it appears that we could be setting up for a snow and ice event come late next week. More details to follow on both these systems in the coming days. I believe in dealing with one system at a time. Those of you on Patreon, we will discuss this later today on my exclusive members only Weather in 10 video.
Please note that with regards to any severe weather,  tropical storms, or hurricanes, should a storm be threatening, please consult your local National Weather Service office or your local government officials about what action you should be taking to protect life and property.