DOWNLOAD MY NEW FREE JOESTRADAMUS WEATHER APP FOR ANDROID

THE APP IS ABSOLUTELY FREE TO ALL BUT CONSIDERING SUBSCRIBING TO PATREON FOR A WEATHER EXPERIENCE FREE OF ADS, EXCLUSIVE VIDEOS FOR MEMBERS ONLY AND MUCH MORE…STARTS AT $2 A MONTH..MESSAGE ME AT ANY TIME
Winter Storm Warning Middle Atlantic States Warnings Expanded
Winter Weather Advisory Southern New Jersey Counties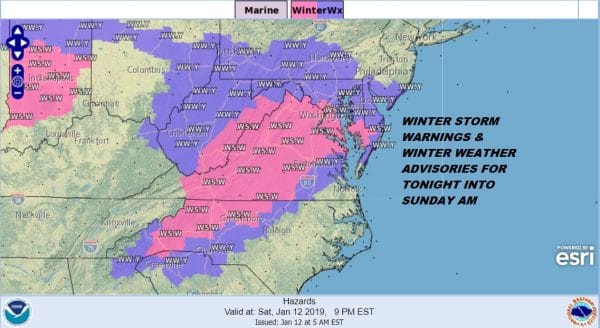 Satellite and radar presentations of the weather system moving across the Tennessee is impressive enough though we are seeing the impact of the cold high to the north beginning to flatten the system out and stretching it east west. None the less for the areas to the south the expansion of Winter Storms Warnings in Virginia, Westerm North Carolina and Maryland appear justified and this now includes the partially shutdown nation's capital. Meanwhile there is very little change in the extent of the area of Winter Weather advisories as they remain the same across Southern Pennsylvania from York County Westward and for the counties of Southern New Jersey.
Snow amounts in the warning area are forecast to be 6 inches or more with highest amounts south and west of Washington DC. Now as far as we are concerned the map brings the northern fringe of about an inch to Route 195 in New Jersey and extends back west northwestward through Pennsylvania. I think the leading edge of snow that could produce a coating can still make it to just barely north of NYC as I indicated on my final call map yesterday and it still remains my final call map. Southern New Jersey Counties are good for 2 to 3 inches and it is quite possible that these amounts may need to be nudged higher especially southward into Cape May County.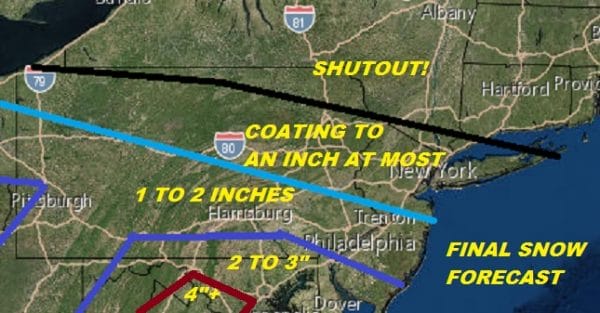 We start the day cold and for the warmer urban centers it has taken nearly 7 weeks to equal the low temperatures set back around Thanksgiving. We are in the teens to near 20 this morning in most areas with clear skies and not much wind overnight. Look for sunshine giving way to arriving high clouds as the day wears on with highs in the upper 20s to perhaps a few lower 30s where there is enough sun.
EASTERN SATELLITE

REGIONAL RADAR

We are beginning to see radar echos stream across North Carolina and Virginia though at least initially not much of this is reaching the ground. That should quickly change later today and of course tonight and into Sunday morning. Meanwhile for us it is all the dry cold air nearby and to the north that acts as a giant weight and a brick wall as to how far north the snow gets. Even if it does make it on the radar and there is a snowstorm at 1500 feet, not much of it will be reaching the ground. There is still enough nip and tuck back and forth in the weather models overnight to just leave things as is for a few hours of snow that maybe reaches NYC while you sleep before daybreak Sunday. Weather conditions will improve from north to south Sunday. In the Hudson Valley and Connecticut clouds will give way to some sunshine by midday Sunday and by afternoon the cloud line is likely to be south of NYC, Northern New Jersey & Long Island. Temperatures tonight will be in the 20s and highs Sunday in the upper 20s where there cloud cover and low 30s where the sun breaks out soon enough. I really don't see much room here for an upside surprise from 195 Northward.
MANY THANKS TO

TROPICAL TIDBITS

FOR THE USE OF MAPS
Please note that with regards to any tropical storms or hurricanes, should a storm be threatening, please consult your local National Weather Service office or your local government officials about what action you should be taking to protect life and property.