Winter 2016-2017 New Jersey
Winter 2016-2017 New Jersey
Many thanks to Tom Stavola for his generosity in allowing me to show his snowfall maps for New Jersey. His website is Lightinthestorm. 
Also many thanks to Robert Smith of Garden State Weather for his help with this. His facebook page is..you gussed it…Garden State Weather!
With the winter of 2016-2017 coming very soon we have been doing a series of preview pieces on the upcoming winter. The prior pieces focused on Long Island, Ocean Water Temperatures, Siberian Snow Cover & Arctic Sea Ice. Links to those posts are at the end of this piece which will focus on New Jersey.
New Jersey from the standpoint of snow is a state where you could be having a snowstorm going on in the northern part of the state with temperatures in the teens while getting thunderstorms with temperatures in the 50s & 60s in the south. You could have instances of a snowstorm in the south while its partly sunny in the north. The normal snow fall across the state has a very wide range from south to north.

You can see the annual range is from 15 to 18 inches in the south to over 60 inches in parts of Northwest New Jersey. Certainly this makes for numerous forecast challenges and my tendency to use interstates like Routes 80, 78, 195, and 95 as lines in the sand when it comes to snow amounts.
The last 4 winters have given us a wide variety of outcomes. Last year was an odd year for sure given the very strong El Nino pattern that dominated the entire winter.
The snowfall totals for the winter were dominated by the one big blizzard last January. Also the increased snowfall in parts of Northeast NJ was from two snow events that only impacted that area and points east. Northwest New Jersey missed out on all of this and finished with under 15 inches for the entire winter.
Contrast 2015-2016 with 2013-2014 which brought heavy snow to the entire state with 40 inches or more across the south to pockets 65 to 75 inch snowfalls scattered around Central and Northern New Jersey. Suffice to say that in New Jersey the numbers could go all over the place depending on the winter pattern that sets up.
From the standpoint of temperatures last winter was warm than normal statewide and in some places it was among the warmest winters ever recorded. It just happened that it snowed during the few times it was cold enough. It was like snow in South Carolina!
I think with the absence of El Nino and only a very weak La Nina present at the moment that a no brainer forecast would be that we would revert to something resembling normal cold with average snowfall with more in the north and less in the south. But it isn't that simple. Everything ultimately depends on the long term upper air patterns that drive all this. That is something we won't even get a hint of until we get into late fall. Sometimes patterns set up early that lock in for awhile. There is no guarantee that it will be cold when storms come or whether the current dry pattern doesn't continue into the winter.
WINTER 2016-2017 SIBERIAN SNOW COVER
Siberian snow cover is one among many long term tools we look at. The theory goes that the rate of snow growth in October has an effect on cold and snow in the Eastern US. It doesn't always work and it didn't work last year. September snow growth so far is on course with last year which is minimal at this point but it should begin to increase in the next few weeks as daylight up north begins to disappear.
WINTER 2016-2017 GFS UPPER AIR PATTERN STRATOSPHERE
We are looking way up in the atmosphere where planes fly and beyond. Right on schedule we see the polar vortex developing across Northern Canada. The position and tilt of this vortex at high levels of the atmosphere is a driver of air masses. Again we are the very beginning of this process.
Ultimately we are again at the beginning of the process. Obviously we can't even begin to get specific here. About the broadest statement I can make at this point is that a more average winter would be the obvious prediction with less volatility than last winter. We should be able to get more specific as we get deeper into the fall.
HERE ARE THE PRIOR JOESTRADAMUS POSTS ON THE WINTER 2016-2017 OUTLOOK 
WINTER 2016-2017 PART 1 OCEAN WATER TEMPERATURES
WINTER 2016-2017 PART 2 ARCTIC SEA ICE AND SIBERIAN SNOW COVER
JOIN JOE CIOFFI AT THE HICKSVILLE LIBRARY ON WEDNESDAY OCTOBER 5TH 2016 AT 7:15PM
FiOS1 News Weather Forecast For Long Island
FiOS1 News Weather Forecast For New Jersey
FiOS1 News Weather Forecast For Hudson Valley
NATIONAL WEATHER SERVICE SNOW FORECASTS
LATEST JOESTRADAMUS ON THE LONG RANGE
Weather App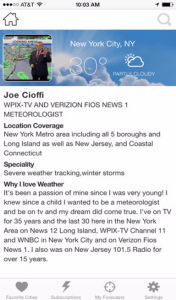 Don't be without Meteorologist Joe Cioffi's weather app. It is really a meteorologist app because you get my forecasts and my analysis and not some automated computer generated forecast based on the GFS model. This is why your app forecast changes every 6 hours. It is model driven with no human input at all. It gives you an icon, a temperature and no insight whatsoever.
It is a complete weather app to suit your forecast needs. All the weather information you need is right on your phone. Android or I-phone, use it to keep track of all the latest weather information and forecasts. This weather app is also free of advertising so you don't have to worry about security issues with your device. An accurate forecast and no worries that your device is being compromised.
Use it in conjunction with my website and my facebook and twitter and you have complete weather coverage of all the latest weather and the long range outlook. The website has been redone and upgraded. Its easy to use and everything is archived so you can see how well Joe does or doesn't do when it comes to forecasts and outlooks.
Just click on the google play button or the apple store button on the sidebar for my app which is on My Weather Concierge. Download the app for free. Subscribe to my forecasts on an ad free environment for just 99 cents a month.
Get my forecasts in the palm of your hand for less than the cost of a cup of Joe!