Winter 2016-2017 Hudson Valley Connecticut
Winter 2016-2017 Hudson Valley and Connecticut
Colder Than Average
Above Average Snowfall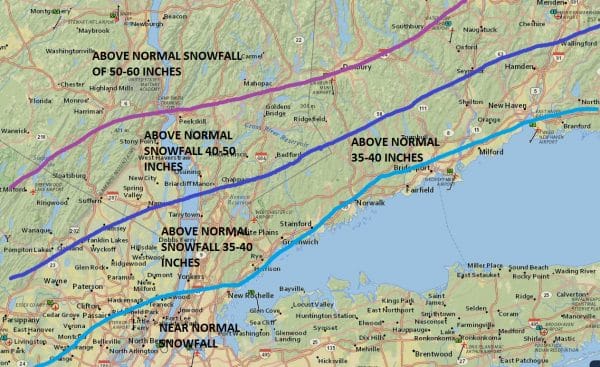 Continuing along on the theme of a colder winter in terms of temperatures, I expect temperatures this winter across this area to average 1 to 2 degrees below normal for the three period of December through February.  Given that the weather pattern seems to be reverting back to something other than what we saw last year it would seem logical to assume that this should at the very least bring winter weather conditions back to something looking like normal.
The issue of snowfall as we have stated in previous posts is rater problematic. Areas north and west of the coast as well as northeast of the coast have had several strange winters over the past number of years where snowfalls have been less than coastal areas. In fact the overall cycle of the last 16 or so years  has been for the coast to get more than inland areas especially when you measure it as a percentage of normal. In other words lets say Newburgh NY and Islip both get 60 inches of snow for the winter. For Newburgh that is maybe about 50% above normal but for Islip its 100% above normal.
All that said I think this year reverts to a more normal looking scheme with increasing chances for above normal snowfall the further north you go into the Hudson Valley and Connecticut. The skewing of above normal begins in Southern Westchester County and from just inland of Coastal Connecticut and then increases in magnitude as you head along and north of Route 84. This should clearly reverse the lack of snowfall from last year were snow pack was virtually non existent from route 84 northward during any point of the winter. Those areas completely missed out on the Blizzard of 2016. The lack of snow pack last winter was a big contributor to the the drought and the drying up of local rivers, streams and lakes.
With regards to precipitation this is a big question because we need to see clear evidence of the drought pattern easing. There is nothing that says it can't be cold and dry for the winter and if the drought pattern does not ease, then the snowfall forecast would probably be too high. Also a continuation of the drought pattern might tend to favor weaker systems verses larger ones and this could have a bigger impact as you go north and west away from the coast.
For snowfall forecasts for other areas click on the following links.
           SNOW REMOVAL COMPANIES FOR YOUR WINTER NEEDS
             LONG ISLAND                                ROCKLAND COUNTY                   Connecticut

WINTER 2016-2017 PART 1 OCEAN WATER TEMPERATURES
WINTER 2016-2017 PART 2 ARCTIC SEA ICE AND SIBERIAN SNOW COVER
FiOS1 News Weather Forecast For Long Island
FiOS1 News Weather Forecast For New Jersey
FiOS1 News Weather Forecast For Hudson Valley
NATIONAL WEATHER SERVICE SNOW FORECASTS
LATEST JOESTRADAMUS ON THE LONG RANGE
Weather App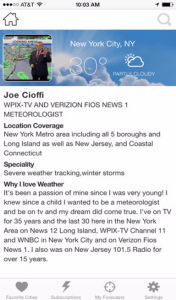 Don't be without Meteorologist Joe Cioffi's weather app. It is really a meteorologist app because you get my forecasts and my analysis and not some automated computer generated forecast based on the GFS model. This is why your app forecast changes every 6 hours. It is model driven with no human input at all. It gives you an icon, a temperature and no insight whatsoever.
It is a complete weather app to suit your forecast needs. All the weather information you need is right on your phone. Android or I-phone, use it to keep track of all the latest weather information and forecasts. This weather app is also free of advertising so you don't have to worry about security issues with your device. An accurate forecast and no worries that your device is being compromised.
Use it in conjunction with my website and my facebook and twitter and you have complete weather coverage of all the latest weather and the long range outlook. The website has been redone and upgraded. Its easy to use and everything is archived so you can see how well Joe does or doesn't do when it comes to forecasts and outlooks.
Just click on the google play button or the apple store button on the sidebar for my app which is on My Weather Concierge. Download the app for free. Subscribe to my forecasts on an ad free environment for just 99 cents a month.
Get my forecasts in the palm of your hand for less than the cost of a cup of Joe!