Windy Cold Through Friday Warmer Easter Weekend Spring Block Next Week

Weather in 5/Joe & Joe Weather Show Latest Podcast
Windy Cold Through Friday Warmer Easter Weekend Spring Block Next Week
Our storm system is moving slowly northeastward in New England and we are watching drier air coming in from the west for this afternoon. Some sunshine has broken out to the west of the coast at midday and we will see gradual improvement through the afternoon. It is cold with a raw north wind. Temperatures are in the 40s and they will likely hold in the 40s for the rest of the day. Winds will gust to 30 mph at times adding a winter time wind chill to the air.
SATELLITE

Skies will clear out tonight and it will be very cold. In areas where the growing season has started there is the risk for a freeze. Clearly it is too early to put delicate plants outside and if you have, you should bring them in tonight.
Friday morning lows will be in the 20s to near 30 everywhere. The winds will continue to gust up to 30 mph at times overnight and Friday. We should see some relatively ineffective sunshine on Friday with highs just back to the low and mid 40s.
Another cold night is in store for Friday night into Saturday morning with lows again down in the 20s to near 30 degrees under clear skies. Saturday should start with some sunshine as warmer air starts to arrive aloft. This will probably produce some clouds in the mix. Saturday's highs will be back into the 50s in most places.
A weak upper air disturbance will pass to our north Saturday night producing some clouds. Early model runs showed a few spotty showers but lately models have backed away from those. We will mention the outside chance for a shower Saturday night into Easter Sunday morning.
Easter Sunday will start with some clouds but we should go partly sunny before too long. Temperatures will be a little higher and back to seasonal averages in the upper 50s and lower 60s. Overall it won't be a picture perfect weekend as we recover from the cold shot but on the whole it will be nice enough.
Over the weekend in the upper atmosphere an upper high will be strengthening in the North Atlantic and it will trap an upper air storm south of Nova Scotia. That low will being to migrate back west and southwest. While it never makes it far enough west to produce major issues, it will control the flow in the Northeast and Northern Mid Atlantic.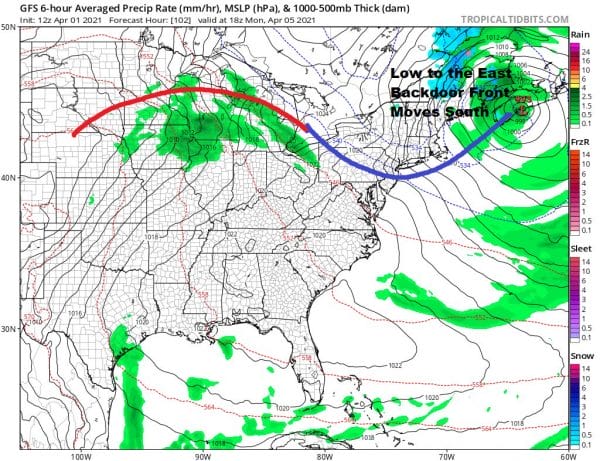 Winds will turn northerly on Monday with clouds and some sun along with a gusty wind at times along the coast. Temperatures will top in the upper 50s to lower 60s. That low to the east hangs around into Wednesday and that will keep temperatures in check into midweek. Then attention turns to the west with an approaching low. The block to the east will still be around controlling the flow. We probably won't see any rain of consequence until Thursday of next week. A stronger storm system may follow Friday and next weekend. The moral of this pattern and this time of year is to enjoy the sunshine when you get it because atmospheric traffic jams are likely to develop and that means occasional stretches of doom and gloom type weather.
MANY THANKS TO TROPICAL TIDBITS FOR THE USE OF MAPS
Please note that with regards to any severe weather,  tropical storms, or hurricanes, should a storm be threatening, please consult your local National Weather Service office or your local government officials about what action you should be taking to protect life and property.