Windy Cold Day But Warmer Weather With Less Wind Late Week Showers

We have yesterday's large storm system now sitting in the Gulf of Maine and still waiting to pull away to the east. In the meantime we continue to experience a strong gusty winds and that will continue today as the pressure gradient remains tight. Northwest winds will be running 20 to 30 mph with gusts up to 40 mph at times. We will see clouds and some sunshine as we are still seeing some spokes of moisture rotating on the back side of the storm center. There are even a few patches of light snow showers on the radar and a few flurries can't be ruled out. It will be a cold day with highs just in the low to middle 40s in most places.
SATELLITE

WEATHER RADAR

This time of year while it still can get cold it doesn't last and the bounces higher are actually quite solid. Winds will ease somewhat tonight under clear skies with lows in the mid 20s to lower 30s. Thursday begins one of those bounces as high pressure moves offshore and a southwest flow develops. Sunshine should take high up into and in some cases through the 50s.

Friday we will see an even higher bounce with the southerly flow and highs will be in the mid 50s to some lower 60s. We also will see a cold front arrive from the west and the risk for showers developing from west t east later in the day and lasting through Friday night and into early Saturday morning.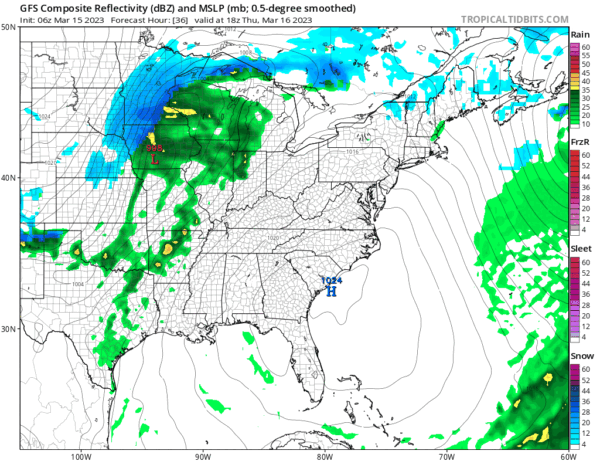 There might be some rain lingering into Saturday morning. It might even end as some snow inland which doesn't amount to much of anything. The front moves out and we have a colder high that builds southward from Canada. This leaves us in clouds giving way to some sunshine with Saturday highs early in the day in the 50s before temperatures ease. Sunday will be dry and cold with sunshine and highs just in the low to middle 40s.
Please note that with regards to any severe weather,  tropical storms, or hurricanes, should a storm be threatening, please consult your local National Weather Service office or your local government officials about what action you should be taking to protect life and property.