Windy Chilly Wednesday Wet Spring Weather Pattern Takes Control Thursday
The aftermath of the severe weather and cold front yesterday has left us in a cold environment today. We are seeing some sunshine but we are still seeing instability clouds across New England and NY State with the occasional snow shower flying by to the north. The winds are still cranking a bit making for a chilly afternoon but the sun should take the sting out of the air. Temperatures however are struggling today
SATELLITE

REGIONAL RADAR

Tonight should be clear for most of the night though some high clouds will arrive early Thursday morning. Most lows will be in the 30s along the coast but 20s will be common inland. Then we get ready for rain that will develop later in the day Thursday as low pressure moves east from the Central Plains to the Ohio Valley and then off the New Jersey coast Friday morning.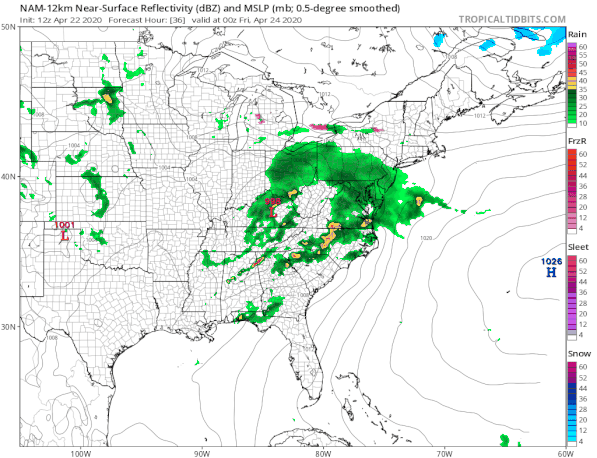 We could see temperatures rise into the 50s on Thursday but once the rain begins temperatures will likely settle back into the 40s. The rain should last into the first part of Friday before the low moves away. Rainfall amounts will be on the order to an inch to perhaps an inch and half.
We seem to be in a bowling alley in this weather pattern and we are basically the 10 pin here. Our Friday system exits and while weather conditions should improve Friday night into early Saturday, the next system takes a similar track to the Thursday/Friday low and rain is back for late Saturday into Sunday. Once again the onshore flow takes hold and that will keep temperatures in the 50s Saturday and then back into the 40s when rain takes over Saturday night into Sunday. This could be another one inch plus rain producer. Weather conditions should improve Monday into Tuesday and then the third system follows in almost similar fashion for next Tuesday night and Wednesday.
MANY THANKS TO TROPICAL TIDBITS FOR THE USE OF MAPS
Please note that with regards to any severe weather,  tropical storms, or hurricanes, should a storm be threatening, please consult your local National Weather Service office or your local government officials about what action you should be taking to protect life and property.