Windswept Soaking Rain Monday As First of Two Storms Impacts Northeast & Middle Atlantic

Weather in 5/Joe & Joe Weather Show Latest Podcast
Windswept Soaking Rain Monday As First of Two Storms Impacts Northeast & Middle Atlantic
The Thanksgiving holiday weekend draws to a close today and it looks as if we will squeeze in a nice day overall. Sunshine should dominate into the afternoon before some high clouds start moving in. This is ahead of a strong storm that will be coming out of the Gulf of Mexico and moving up the Appalachians and that brings a windswept soaking rain here for Monday. Until then it is a nice finish to the weekend and probably a good day to get the Christmas lights up and done if you haven't already. Highs today will be in the 50s.
SATELLITE

REGIONAL RADAR

Late today the regional radar will start to pick up on the rain from the Gulf Storm as it moves into North Carolina. Progress northward continues tonight. We cloud up overnight with temperatures holding in the 40s to low 50s. Monday brings the rain and the wind as low pressure moves northward and intensifies.
Rain moves in Monday morning from south to north and it should be mostly done by late afternoon or evening as it ends from south to north. Temperatures are going to shoot up into the 60s. We are going to be at risk for some thunderstorms and there is the possibility of severe weather from this as the Storm Prediction Center is showing marginal risk. They have pushed the risk zone northward into New England. I would not be at all surprised to see a further upgrade to slight risk from New Jersey southward.
As the strong cold front approaches and the pressure gradient tightens you can expect gusty winds to develop Monday afternoon into the evening especially along coastal areas from New Jersey east to Long Island and Southern New England. Wind Advisories may go up for these areas and we already have a high wind watch for Southeastern New England up. Winds could gust to 50 mph at times.
Since this is moving quickly rainfall amounts while robust are not going to get too far out of control however thunderstorms could enhance amounts in some areas. On average an inch to an inch and a half is likely with upwards of 2 inches in Southern and Southeastern New England.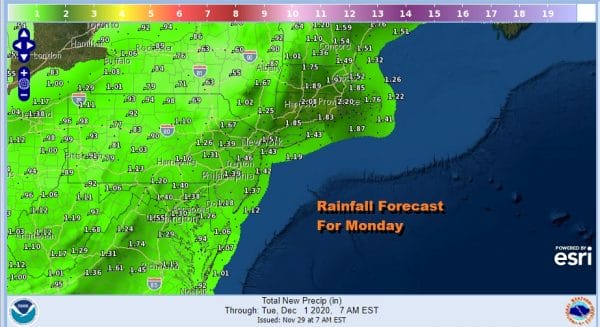 The track of this low will produce some significant snow in areas from the Southern Appalachians northward to Western Pennsylvania and Ohio. I would not be at all surprised to see 6 inch or higher amounts in some areas. The coldest air heads more south than it does east as the storm lifts northward which explains why it will be snowing in areas well to the southwest of us.
Weather conditions will improve somewhat Monday night into Tuesday though Tuesday will still be breezy with variable clouds and the chance for a passing shower. Temperatures will be in the 40s. The rest of the week will be dry and then attention turns to another storm system for next weekend. We will discuss that possibility later today and on the Joe & Joe Weather Show at 11am on Youtube.
MANY THANKS TO TROPICAL TIDBITS FOR THE USE OF MAPS
Please note that with regards to any severe weather,  tropical storms, or hurricanes, should a storm be threatening, please consult your local National Weather Service office or your local government officials about what action you should be taking to protect life and property.