Wind Advisory Gusts 40 MPH Week Ahead Dry Calm
SHOP THE JOESTRADAMUS STORE
Wind Advisory Gusts 40 MPH Week Ahead Dry Calm
An intensifying storm along the Canadian border is moving northeastward this morning and a cold front is shifting offshore. Winds which have been from the southwest and gusty are shifting to the west and they will be gusting to 40 to 50 mph into this afternoon and then slowly begin to ease late this afternoon and tonight.
WIND ADVISORY SUNDAY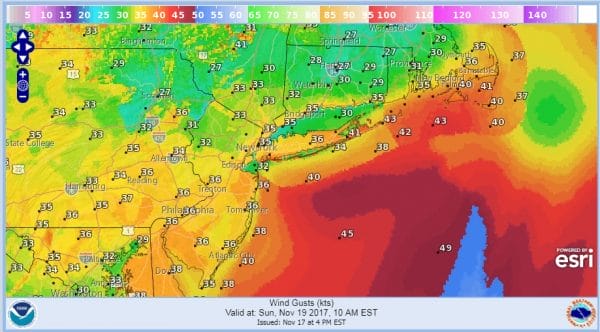 We will also see sunshine with a few leftover passing clouds today as the rain is also shifting offshore and now it looks like we won't see any rain all week and possibly through next weekend.
SATELLITE LOOP

REGIONAL RADAR

LOCAL RADAR NEW YORK CITY
LOCAL RADAR PHILADELPHIA

Temperatures today have already reached their highs in the upper 50s to near 60. We will see temperatures fall into the 40s this afternoon and down to the upper 20s and lower 30s tonight.
TUESDAY'S FORECAST HIGHS
The week ahead looks very quiet and calm. Temperatures on most days will be below average with highs in the 40s except for Tuesday which will warm up ahead of the next cold front and reach the upper 50s to near 60 or so. No major storms are on the horizon and the month of November may end on a quiet note.

GET JOE A CIGAR IF YOU LIKE 
FiOS1 News Weather Forecast For Long Island
FiOS1 News Weather Forecast For New Jersey
FiOS1 News Weather Forecast For Hudson Valley
LATEST JOESTRADAMUS ON THE LONG RANGE