Wind Advisories Showers Downpours Today Windy Overnight Into Thursday

We have a strong storm intensiyfing in Canada near James Bay today and a cold front extends from that low all the way south to Florida. This is going to be a fast system and that means things will be moving. Showers will overspread the area this morning from west to east and they will come to an end late this afternoon and evening from west to east. Clouds are racing northeast on the satellite and at the same time the western edge is moving quickly eastward. Wind Advisories are posted for this afternoon and evening for a 6 to 8 hour period of south to southwest winds gusting to 40 to 50 mph at times. Advisories are for areas mainly northwest, north, and northeast of NYC. South of there it seems that except for perhaps the shore, winds will be gusty but just under advisory criteria.
SATELLITE

WEATHER RADAR

The regional radar is fairly loaded up with showers and even some thunderstorms are showing up to the south in Virginia and North Carolina. everything should move along with no complications. Temperatures will rise to the upper 50s and lower 60s today for highs. Then the front passes and the winds shift to the northwest bringing drier air behind it and skies should clear overnight. Most overnight lows will be in the upper 20s and lower 30s and winds will ease off the highs but it will be on the windy side.
Over the next 2 days we have a quick shot of colder air coming in and that will mean sunshine and a gusty wind for Thursday but it will be cold. Most highs will be in a range of 40 to 45. Friday after a cold start, sunshine should take highs in most places to the mid and upper 40s.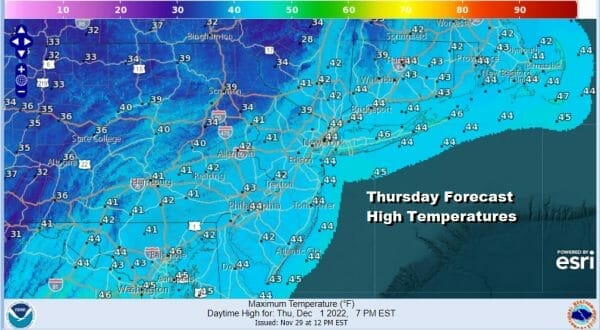 We have a fast pattern west to east and cold front after cold front moving through the Eastern US every couple of days so the next one arrives Saturday. Showers will develop late Friday night and last into Saturday afternoon. Highs Saturday will be in the mid 50s to near 60. Then the front takes the showers out and weather improves Sunday with another shot of colder air and returning sunshine. Highs will be in the mid to upper 40s.

Next week we begin to see a blocking pattern in the North Atlantic take control of the weather pattern across North America and that will eventually lead to colder weather in the East and it might open the door to some winter weather down the road.
Please note that with regards to any severe weather,  tropical storms, or hurricanes, should a storm be threatening, please consult your local National Weather Service office or your local government officials about what action you should be taking to protect life and property.