Wind Advisories Likely for Some Areas Wednesday Cold Front Brings Showers

A chillier day has settled into the Northeast today thanks to high pressure in New England that is about to move offshore. Some patchy clouds are around but we also have some sunshine in the mix. Temperatures this afternoon will generally top in the mid to upper 40s though as the map above shows, some 50 degree highs are possible to the south. Radars are quiet and not an issue for today or tonight. We probably will have partially clear skies for most of the night with lows in the 30s to lower 40s.
SATELLITE

WEATHER RADAR

A storm system is coming out of the Southern Plains and heading for the Great Lakes tonight. We will likely see a rather robust severe weather outbreak across parts of the Lower Mississippi Valley and Central Gulf States where there is a moderate risk for severe weather and a 15% risk for tornadoes.
Wednesday the high to the east strengthens while low pressure in Canada does the same, tightening up the pressure gradient in the Northeast and Mid Atlantic states. We have Wind Advisories already posted for Southeastern New England and we will likely see additional advisories posted for Wednesday afternoon and evening.
As Wednesday progresses, showers from the cold front will develop across Pennsylvania and spread west to east into the afternoon. Winds will increase from the south southwest and gust to 40 mph or at times. The front will move through in the late afternoon and evening taking showers out to the east. They will end a little later in Southern and Southeastern New England. Temperatures Wednesday will be warm with highs racing through the 50s and even into the 60s in some areas.
It will remain windy through Wednesday night though the winds will ease off the highs of the afternoon. We should partially clear out at night and that leaves us with a breezy chilly day Thursday with sunshine. It will be a cold day however thanks to a quick shot of cold air coming in behind Wednesday's weather system Highs will just be in the low to mid 40s with a gusty wind.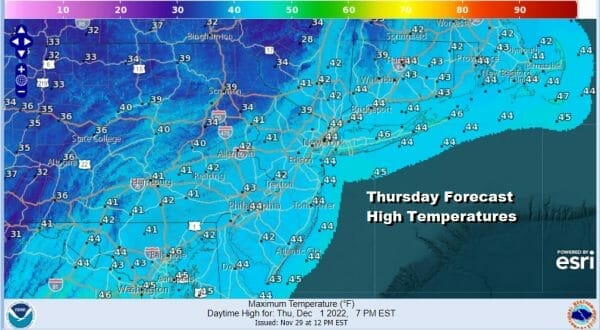 Friday will be another chilly day with sunshine and there will be less wind. Highs will be in the middle 40s for the most part. The next cold front will be arriving on Saturday and it won't be as strong as the Wednesday system but there will be some showers. High temperatures will be in the mid to upper 50s.
Sunday brings another shot of colder air but it will be the better of the two weekend days with sunshine coming back and highs just in the low to middle 40s. The fast pattern brings the next storm system and cold front with some rain developing during the day Monday and lasting into Tuesday.
Please note that with regards to any severe weather,  tropical storms, or hurricanes, should a storm be threatening, please consult your local National Weather Service office or your local government officials about what action you should be taking to protect life and property.