White Christmas Possible Just North NYC PHL
SHOP THE JOESTRADAMUS STORE
White Christmas Possible Just North NYC PHL
JOE'S WHITE CHRISTMAS SNOW FORECAST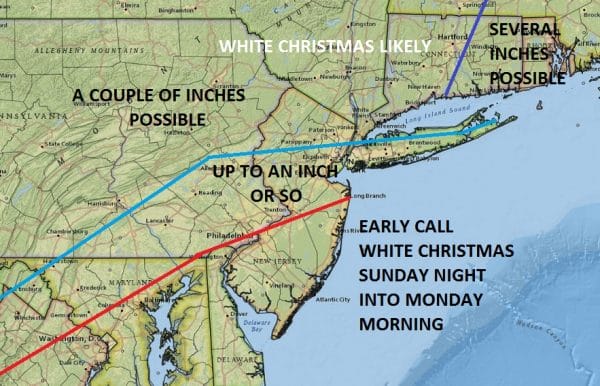 This is my early call for snow which will fall beginning around or just before midnight Sunday night Christmas Eve and ending shortly after sunrise Christmas morning though it may last longer in places to the East. I'm taking a conservative view here though some models show slightly more robust numbers. Temperatures will be key and close to freezing and with the snow falling at night it should stick enough to give White Christmas lovers a nice scenic view Christmas morning while at the same time not really getting too much in the way for those of you travelling around. Confidence is a bit low at this point as we need to see a few more things come together.
WHITE CHRISTMAS GFS MODEL MONDAY MORNING
The GFS which up until now didn't even have this at all now has joined the other models and actually paints the more robust view of this. It would suggest that the southern end of at least 1 inch would be further south than the other models but for now we will stick with the conservative viewpoint.
Meanwhile we are enjoying a nice day. Skies will start clear tonight and then cloud up late tonight. This will create cold spots in Northwest New Jersey as well as the Hudson Valley and Connecticut north of route 15. Temperatures will fall to the 20s to near 30 by morning. The satellite loop is showing clouds spreading eastward from the Great Lakes as milder air starts to set up a warm front to our south.
SATELLITE LOOP

REGIONAL RADAR

Precipitation Friday will be patchy and in areas north and west of the coast it will be cold enough at least for awhile to create some slick spots. Elsewhere some patchy light rain will develop from time to time as temperatures start to rise. Areas from NYC & Long Island will see temperatures rise to near 50 by midnight but colder areas north and northwest of the coast will have a tough time getting out of the 30s.
SATURDAY FORECAST HIGH TEMPERATURES
Saturday will be warm as temperatures try to reach the lower 60s in Southern New Jersey & Southeast Pennsylvania while northern areas will struggle through the 40s. Some showers are likely on Saturday at some point but it doesn't look like an all day rain. The cold front will move through Saturday evening and any showers will end from west to east.
Sunday we will be cloudy and colder as temperatures settle in the 30s to near 40. Sunday night Christmas Eve as low pressure develops to our south, much like last Friday snow will begin to break out enhanced by an upper air disturbance coming across from the west. Snow should start in the late evening in Eastern Pennsylvania and closer to midnight from New Jersey to Southern New England. It all ends Monday morning around daybreak though it could last a bit longer to the east. Leftover clouds will remain for the rest of Christmas Day with highs in the 30s. Much of next week will be cold with the chance for more snow late in the week.

GET JOE A CIGAR IF YOU LIKE 
FiOS1 News Weather Forecast For Long Island
FiOS1 News Weather Forecast For New Jersey
FiOS1 News Weather Forecast For Hudson Valley
LATEST JOESTRADAMUS ON THE LONG RANGE