Weekend Weather Remains Questionable
Weekend Weather Remains Questionable
Now that the rain is all but gone (accept for a few isolated showers) we look ahead to the weekend which remains questionable as the boundary between moisture and dry air will be close by through Sunday. This will impact to the south more with the possibility of some rain in Southern New Jersey and Southeastern Pennsylvania during Saturday and Saturday night. Areas to the north will be fighting the cloud line right through Sunday. If I had to bet at this point dry air could force its way southward so that Sunday could be a little better sky wise with a bit more sun. The complicating issue there is a slowing increasing onshore flow that might produce cloud issues.
The satellite loop shows the system in the east struggling to get through. The problem is a large non tropical storm out in the Atlantic that you can see spinning away and not moving which is creating a log jam along the east coast. Tropical Storm Arlene has merged with this large tropical storm and no longer exists as a separate entity.
SATELLITE LOOP

REGIONAL RADAR

LOCAL RADAR NEW YORK CITY
LOCAL RADAR PHILADELPHIA

Radars are quiet other than the isolated shower indicated here and there. Nothing of consequence is expected this evening or overnight. We expect things to be quiet for Saturday except for areas to the south from South Central Pennsylvania to Southern New Jersey. The NAM model shows an area of rain moving through these areas Saturday night into Sunday morning.
WEEKEND WEATHER NAM MODEL EARLY SUNDAY MORNING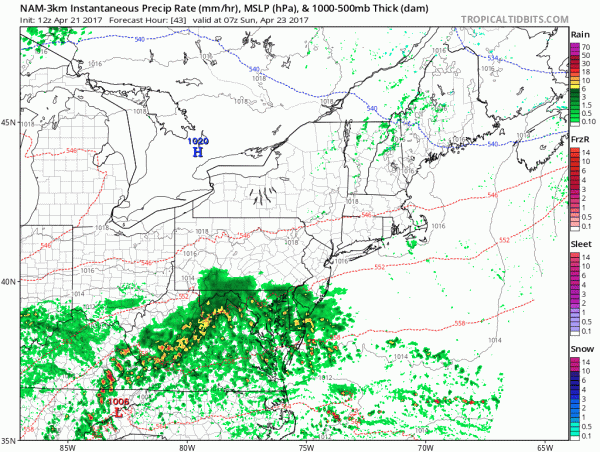 The rain area is forecast to sink southward during the day Sunday. The northern cut off is rather sharp so areas in New Jersey north of Route 195 north and east into Southern New England look to be dry. That rain is part of low pressure that will develop off the southeast coast and move northward on Monday. Rain will start pushing northward during the day Monday. Temperatures over the weekend look to remain rather seasonal though where there are lots of clouds they will probably be on the low end of the 60s and even some 50s. Areas that see some breaks of sun should see temperatures reach into the 60s.

GET JOE A CIGAR IF YOU LIKE 
LANDSCAPE COMPANIES FOR YOUR NEEDS
             LONG ISLAND                                ROCKLAND COUNTY                   Connecticut
     ROCKLAND COUNTY                         TRI STATE SNOW REMOVAL                           JOHNSTOWN PA
FiOS1 News Weather Forecast For Long Island
FiOS1 News Weather Forecast For New Jersey
FiOS1 News Weather Forecast For Hudson Valley
LATEST JOESTRADAMUS ON THE LONG RANGE
Weather App
Don't be without Meteorologist Joe Cioffi's weather app. It is really a meteorologist app because you get my forecasts and my analysis and not some automated computer generated forecast based on the GFS model. This is why your app forecast changes every 6 hours. It is model driven with no human input at all. It gives you an icon, a temperature and no insight whatsoever.
It is a complete weather app to suit your forecast needs. All the weather information you need is right on your phone. Android or I-phone, use it to keep track of all the latest weather information and forecasts. This weather app is also free of advertising so you don't have to worry about security issues with your device. An accurate forecast and no worries that your device is being compromised.
Use it in conjunction with my website and my facebook and twitter and you have complete weather coverage of all the latest weather and the long range outlook. The website has been redone and upgraded. Its easy to use and everything is archived so you can see how well Joe does or doesn't do when it comes to forecasts and outlooks.
Just click on the google play button or the apple store button on the sidebar for my app which is on My Weather Concierge. Download the app for free. Subscribe to my forecasts on an ad free environment for just 99 cents a month.
Get my forecasts in the palm of your hand for less than the cost of a cup of Joe!