Our weather over the next few days has only one minor weather system moving through and that will be later on Saturday. This could produce some isolated downpours or a thunderstorm. Unlike what came through a few days ago this has very little upper air support. Also the air ahead of it while turning more humid is not exactly going to be rip roaring tropical so without something strong in the upper atmosphere to cause problems, it looks fairly routine.
Friday looks very good with lots of sunshine. Humidity should still be reasonable. Temperatures will begin to make their run to the middle and upper 80s after a comfortable morning start in the 60s to near 70.
Saturday highs should be in the upper 80s to lower 90s ahead of the front and the same holds behind the front for Sunday. Outiside of the isolated thunderstorm threat, things should be just fine for outdoor activity. No thunderstorms are forecast for Monday. Humidity will be higher Saturday, a little lower on Sunday, and higher early next week.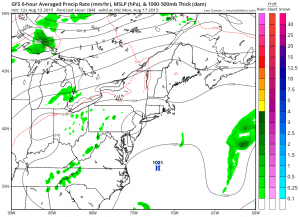 You can see what is happening on Sunday as the front is gone and high pressure is off the Mid Atlantic coast which means the air masses ahead and behind the front are virtually identical in nature. No break at all in the going into next week and you can check JOES FORECAST page for the latest on that.