Weekend Weather Looking Good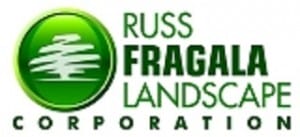 MENTION JOE CIOFFI AND GET A 5% DISCOUNT
Friday's cold front will be moving in and bringing an end to the wall to wall sunshine we have enjoyed for so many days. Long stretches of dry weather arenn't that unusual but we have enjoyed quite a stretch with the last rainfall for most areas coming back on April 12th. However the atmosphere is not exactly loaded with moisture so we will have to take what we can get with regards to any rainfall later Friday and Friday night.
Weekend Weather Looking Good GFS MODEL FRIDAY NIGHT
Weekend Weather Looking Good GFS MODEL SATURDAY MORNING
It looks like the front will be able to keep on moving along though it gets hung up slightly Friday night but not enough to put a damper on Saturday other than some early morning leftover clouds. Friday evening when the front approaches there could be a thunderstorm or 2 running around in the mix but I'm not holding my breath on this. Rainfall amounts still look to average about a quarter of an inch though there are a few pockets of half an inch that show up here and there.
Weekend Weather Looking Good GFS MODEL FORECAST RAINFALL
Now overnight clouds will increase and there could be a passing late night shower or two in a couple of spots. We should be dry into Friday afternoon before the front approaches and the showers come in. Temperatures will hold tonight in the 50s with 40s in cool spots and along the coast where the south wind is in control. Highs on Friday should reach the 70s.
Saturday other than some early leftover clouds we should go partly to mostly sunny. Sunday looks good with mostly sunny skies. Highs both days will be in the 60s to around 70.
Early next week we talked yesterday in our JOESTRADAMUS long range post that there would be a battle zone setting up depending on how strong the blocking is in the North Atlantic. The GFS model wants to set the boundary between warm and cold air to our north while the European wants to set it up over or just to our south. The European has been trending northward the last few model runs while the GFS has held firm on its idea of keeping us on the warm side of the frontal zone. Right now we will lean with the GFS model run that the front will be north of us and that we should see temperatures Monday in the 70s before another front comes through on Tuesday. The European boundary is so close that it could make it go either way. Again for now I'm leaning on the idea that the frontal boundary likes just to the north of New York City. It will mean areas to the north will be in the 50s and 40s..while areas to the south particularly Southern New Jersey and Southeastern Pennsylvania will be in the 70s to around 80!
FiOS1 News Weather Forecast For Long Island
FiOS1 News Weather Forecast For New Jersey
FiOS1 News Weather Forecast For Hudson Valley
NATIONAL WEATHER SERVICE SNOW FORECASTS
LATEST JOESTRADAMUS ON THE LONG RANGE

NOMINATED FOR AN APPY AWARD FOR BEST WEATHER APP!!
Weather App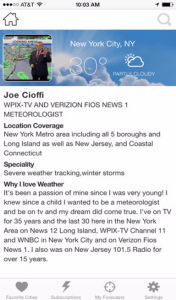 Don't be without Meteorologist Joe Cioffi's weather app. It is really a meteorologist app because you get my forecasts and my analysis and not some automated computer generated forecast based on the GFS model. This is why your app forecast changes every 6 hours. It is model driven with no human input at all. It gives you an icon, a temperature and no insight whatsoever.
It is a complete weather app to suit your forecast needs. All the weather information you need is right on your phone. Android or I-phone, use it to keep track of all the latest weather information and forecasts. This weather app is also free of advertising so you don't have to worry about security issues with your device. An accurate forecast and no worries that your device is being compromised.
Use it in conjunction with my website and my facebook and twitter and you have complete weather coverage of all the latest weather and the long range outlook. The website has been redone and upgraded. Its easy to use and everything is archived so you can see how well Joe does or doesn't do when it comes to forecasts and outlooks.
Just click on the google play button or the apple store button on the sidebar for my app which is on My Weather Concierge. Download the app for free. Subscribe to my forecasts on an ad free environment for just 99 cents a month.
Get my forecasts in the palm of your hand for less than the cost of a cup of Joe!