Weekend Underway Sunshine Chilly Warmer Rainy Start to Next Week
We have are weekend underway and it should be a nice chilly one to get done whatever it is you need to get done with the approaching Christmas or Chanukah  holidays. We have a cold high building in today which should provide us with a fair amount of sunshine but highs won't be getting out of the 30s in most places or at best near 40. The satellite picture this morning does show a few cloud north and west of the coast which is typical of this time of year. There is a bit of lake effect action happening in upstate NY but this should wind down as the day wears on and while some snow showers make it down to the Catskills, other than clouds there are no real issues.
SATELLITE

REGIONAL RADAR

Skies should be nice and clear tonight with most lows in the low to mid 20s in warmer urban areas but there will be lots of teens tonight away from those warm spots with solid radiational cooling conditions.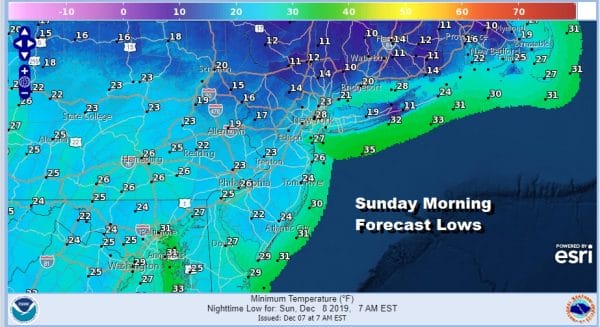 Sunday we should recover nicely with sunshine most of the day with some high clouds developing during the afternoon and evening. HIghs will be back into the 40s everywhere. Temperatures Sunday night will go no where and basically hold steady setting us up for warmer weather Monday and Tuesday, a southwest flow ahead of the next cold front and some rain to deal with.
There will be two surges of rain. One that comes up off the Atlantic during the day on Monday and affects primarily coastal areas while the second develops in the Ohio Valley and moves east. Between the two systems we should see rainfall amounts between  a half inch to an inch and a half but there will be an area in between the Atlantic Ocean induced rain and the Ohio Valley induced rain that will fall at the low end of this range.
Temperatures Monday will be warm with highs in the 50s. Tuesday will be even warmer with highs reaching the upper 50s and lower 60s in some areas before a cold front passes later in the day. Then there is the question of cold air returning Wednesday and a wave of low pressure on the front as the cold air is arriving.
In most cases these fronts move through with rain just shutting off and very little snow behind it. 9 times out of 10 this is the case and we don't see anything here that supports the notion that this could be the 1 time in 10 where you do wind up with something..at least that is the case from what we have seen so far. The second half of next week will be colder especially Thursday where high temperatures in many areas may have a tough time getting out of the 20s. Once this frontal issue plays through early Wednesday the remainder of next week will be cold but dry.
MANY THANKS TO TROPICAL TIDBITS FOR THE USE OF MAPS
Please note that with regards to any severe weather,  tropical storms, or hurricanes, should a storm be threatening, please consult your local National Weather Service office or your local government officials about what action you should be taking to protect life and property.