Weekend Starts With A Gorgeous Saturday of Sunshine
Our weekend is here and it is going to be one of those days today that we will wish was around when we have one of those hot humid stretches over the summer. Skies are generally clear across the northeast on the satellite picture today. We have as sprawling high building from the Great Lakes to New England and that is going to have a say in our weather in one form another for much of this coming week.
SATELLITE

REGIONAL RADAR

There are no issues to worry about on the radar through the weekend. With lots of sunshine today and very low humidity look for high temperatures to be in the 70s making it a simple and straight forward forecast. Tonight will be nice and clear. Most lows will be in the 50s to near 60.
Sunday is looking good too with sunshine though I think with an east or northeast wind which will keep things a bit cooler during the day. There might also be a few clouds in the mix especially along the coast. Highs will be in the low to mid 70s.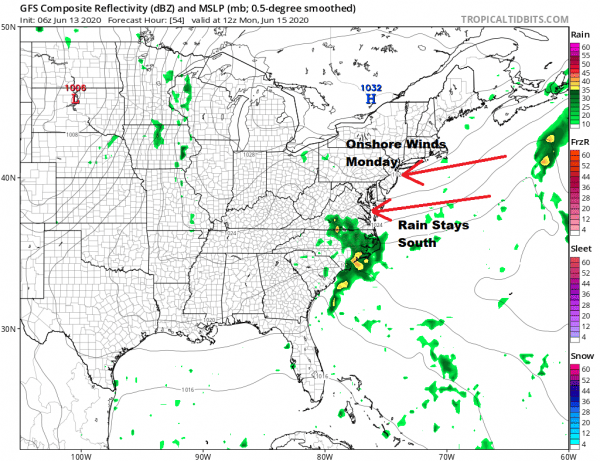 Looking ahead to next week it will be all about that high to the north. Monday the high lines where it creates east winds from Southern New England south to the Middle Atlantic states. This probably creates some cloud issues or at least puts some clouds in the mix with more sun as you go north and less as you head south. Let's draw a line across Central Pennsylvania and Central NJ and use that as our defining point where areas north will be mainly sunny and areas to the south partly sunny. Rain however is not an issue at all as it stays well south in the Carolinas and Southern Virginia with no mechanism to bring it north. Temperatures are going to remain in the 70s for highs.
It does seem that the rain in the Middle Atlantic over Virginia and North Carolina wwill have a difficult time moving northward this week as long as higher pressures remain over the Northeast and extending east into the Atlantic. The jet stream pattern continues to show an upper low in Ohio dropping southward into the Appalachians and even further south into the Southeast US rather than lifting northward.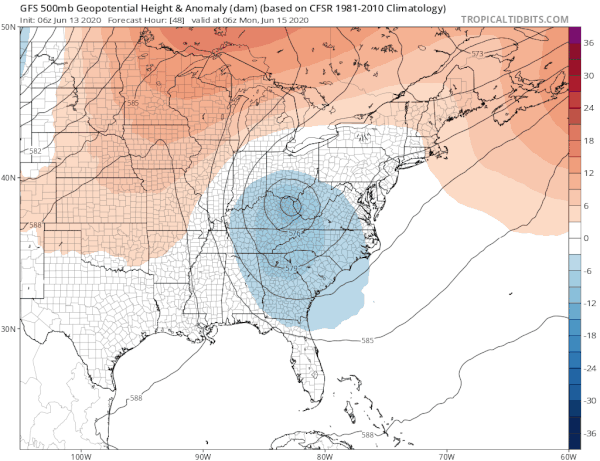 This should keep things dry and rain free over the Northeast all week. We will see nothing worse than a mix of sun and clouds Tuesday through Friday (though it is possible that on one of those days clouds could be more of an issue). Highs will be in the 70s Tuesday and Wednesday and then gradually it turns a little warmer and definitely more humid with highs reaching into the 80s Thursday and Friday away from the ocean. Next weekend is Father's Day with no real issues other than warm to very warm and humid conditions with some sunshine both days and the chance for a pop up shower or thunderstorm. Highs will be in the 80s.
BE SURE TO DOWNLOAD THE FREE METEOROLOGIST JOE CIOFFI WEATHER APP &
MANY THANKS TO TROPICAL TIDBITS FOR THE USE OF MAPS
Please note that with regards to any severe weather,  tropical storms, or hurricanes, should a storm be threatening, please consult your local National Weather Service office or your local government officials about what action you should be taking to protect life and property.