We have enjoyed so many great weekends this summer. The weekend outlook for this one does not look good. Normally in the summer even when it rains, usually a good portion of the day features some sunshine. But this one is a little bit different which leads this weekend outlook to be pessimistic due to the fact that when it is not raining there will be a lot of clouds around.
The dominating feature this weekend is a strong slow moving upper trough that begins to approach on Saturday. All the models have this idea but they all go about this in a different way in resolving how this plays out at the surface. We are going to lean toward the GFS/NAM idea which is to favor wave development to our south which means rain arriving during Saturday and probably reaching the coast early to mid afternoon and then continuing into Saturday night. The first round of rain will play itself out and Sunday morning may wind up starting dry.
The nam model goes along with the same idea as energy seems to want to pile on  to the wave south and east of us. The Canadian is different in that it keeps all the energy and surface low further north which would mean a shorter duration area of showers that moves through Saturday evening. Im leaning against that idea for the moment as the old front is stalled out and there should be more development south and east rather than north and west.
Sunday morning it looks like we get a break however notice that there is a long stretch here in the structure of the wave with some development of rain along the midlle Atlantic coast mostly offshore. This lends to the idea of perhaps the wave slowing down as it waits for the upper support to catch up. The problem is not so much expecting a second big surge of rain but rather that it keeps us in clouds all day with some occasional showers until the whole system finally begins to pull out Sunday night.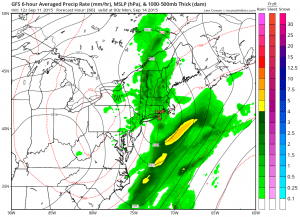 This system finally moves out Sunday night and Monday begins a stretch of nice weather. Monday should be a delightful day with sunshine and temperatures in the 70s with low humidity. However as we have been indicating in our long range posts, the model goes ridge nuts in the east again and by Wednesday we have a big upper high in place which means we are back to warmer than normal temps in the 80s.
So it is back to what we had last week. Im not sure if it necessarily means a trip back to the 90s as the surface features might be a little different so it will depend on cloud cover (if any) and wind direction. That of course is a forecast problem for later next week.
Meanwhile back to the weekend, in terms of rainfall amounts, this is what the models produce for us with the GFS being the most robust.
All the models seem to want to put us in at least .50 inches and as much as 1.50 inches. It looks as if there could be more this time in areas that got a little less yesterday but that is always a tricky proposition to try and figure out. At least everyone will get something of consequence to continue to relieve the rainfall deficit. In summay the weekend outlook is not good for those involved in outdoor activities but then again every weekend can't be picture perfect. A summer filled with great weekends might mean doing something indoors for a change.
Don't forget. Download my weather app and subscribe to my forecasts for just 99 cents a month. The app is free!