Weekend Is Shaping Up Windy Cold For Mothers Day
We mentioned yesterday that if you are a gardener and are waiting to plant annuals or vegetables that require temperatures above freezing take the precautionary measure to wait until after Mother's Day to plant them. We have a very chilly pattern setting up this week featuring two storm systems and a very cold high coming in behind an intensifying low to the northeast this weekend.
SATELLITE

REGIONAL RADAR

We had a cold front pass through early this afternoon and after hitting 70 around midday, temperatures actually settled in the 60s  with a gusty wind and clouds for the remainder of the day. We should clear out tonight and head down to the mid 30s to lower 40s by morning. Tuesday we will see sunshine give way to arriving clouds with highs in the upper 50s to lower 60s.
Low pressure in the Plains tonight heads across the Ohio Valley and then redevelops off the Mid Atlantic coast as the NAM shows. The GFS model shows much more rain from this system with the other models showing less. We don't see this being a big rain producer. It will be on the order of a quarter to a half inch with on and off rain during the day Wednesday into Wednesday night. Weather conditions should start to improve from west to east on Thursday. The onshore flow will keep temperatures just in the 50s on Wednesday and we may actually settle into the 40s while it is raining. If we get some sun back by Thursday afternoon we should reach the upper 50s and lower 60s.
The upper air pattern late this week and this weekend looks like the dead of winter except that we didn't see anything quite like this during this past winter. It is coming now in time for Mothers Day. Another low will headed east and developing into strong storm as it heads from the Central Plains, across the Ohio Valley and then strengthens as it heads into New England Friday night and Saturday.
We will see rain late Friday into early Saturday followed by windy and cold conditions Saturday and into Sunday Mother's Day. Saturday we will see clouds and some sun. Areas in Northern Pennsylvania and Upstate NY could see some snow out of this on the back side. Temperatures are going to be struggling on Saturday with highs just in the upper 40s to lower 50s. The early forecast call is a bit higher but I think we could see numbers below what is being indicated.
Winds are going to be strong and gusty on Saturday probably on the order of 30 to 40 mph from the northwest. This will bring down very cold air and we could  see Sunday morning lows close to freezing in many areas away from the coast.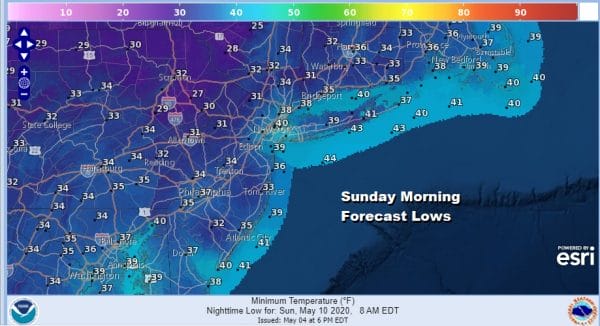 Sunday Mothers Day we will see sunshine but it will still be on the breezy side with highs just into the 50s in most places. The next weather system will arrive on Monday with the chance for showers. We may see a short warm up late next week if we play our upper air cards right.
MANY THANKS TO TROPICAL TIDBITS FOR THE USE OF MAPS
Please note that with regards to any severe weather,  tropical storms, or hurricanes, should a storm be threatening, please consult your local National Weather Service office or your local government officials about what action you should be taking to protect life and property.