COLD FRONT PASSES TONIGHT MUCH COLDER SUNDAY
Showers have already moved through as advertised this morning and now we should see some breaks of sunshine developing for this afternoon. We await a cold front that could bring a couple of more showers this evening and the again overnight. Otherwise it should be dry for much of the time going forward today and tonight. Temperatures will reach the 60s today for highs. The satellite loop this morning shows lots of clouds streaming eastward but it does show some breaks in the cloud cover developing on the northern edge.
EASTERN SATELLITE

REGIONAL RADAR

Regional radar shows the showers out to the east and now out of view of the local radars below. Rainfall overnight didn't amount to too much.
LOCAL RADAR NEW YORK CITY
LOCAL RADAR PHILADELPHIA

Tonight as the cold front comes through we will see some showers during the early morning hours and then it will turn windy and colder early Sunday morning. Temperatures will drop into the 40s and Sunday will be a windy chilly day with some sunshine. High will just be in the upper 40s to lower 50s. The core of the cold air will be with us during the day Sunday. Monday morning will be cold after a night of clear skies and light winds so prepare for another round of frosts and freezes.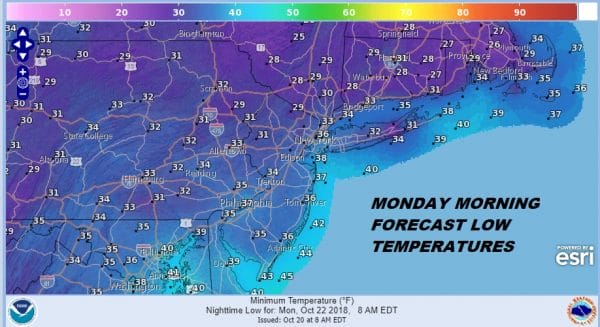 Next week looks dry. Another warm up begins Monday with sunshine and highs in the 50s. Tuesday we will reach into the 60s as yet another cold front arrives and moves through. No showers are forecast however, just a mix of sun and clouds. Then Wednesday Thursday & Friday will be chilly but with some sunshine and highs in the low to mid 50s.
We are still looking at the potential for storminess next weekend and beyond but we continue to deal with weather model uncertainty regarding a storm moving up the East Coast. Weather models have been and remain all over the place with this. Nothing much changed overnight to even come close to resolving this so we will continue to keep kicking the can down the road. All of this is over a week away and not worth getting all worked up over it now.
SUBSCRIBE TO PATREON FOR A WEATHER EXPERIENCE FREE OF ADS, EXCLUSIVE VIDEOS FOR MEMBERS ONLY AND MUCH MORE…STARTS AT $2 A MONTH..MESSAGE ME AT ANY TIME

MANY THANKS TO

TROPICAL TIDBITS

FOR THE USE OF MAPS
Please note that with regards to any tropical storms or hurricanes, should a storm be threatening, please consult your local National Weather Service office or your local government officials about what action you should be taking to protect life and property.
LATEST JOESTRADAMUS ON THE LONG RANGE