It is the last weekend forecast for the summer and it is going to go out terrific with sunshine and no weather issues of importance. The only minor issue is Saturday night with a cold front that will be coming through. This means that Saturday will be the warmest of the 2 days and might be a good day to get one last day of sunshine and swimming at the area beaches but make sure lifeguards are on duty. Sunday behind the front we will see sunshine but temperatures will be about 10 degrees cooler than Saturday along with lower humidity.
Now with regards to Saturday night all the models seem to bring the front through dry except for the NAM model which has an impressive line of thunderstorms tomorrow evening in Central Pennsylvania however the line weakens overnight as it moves east. All the other models weaken the line rapidly and only clouds survive from Easternmost Pennsylvania eastward.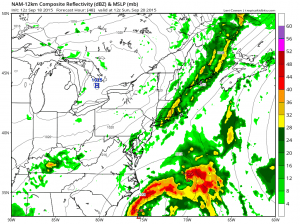 Im going to go with the idea that the models will weaken the storms and that none survive to the coast. I suppose there is always the chance that one does and if it does it should occur between 8pm and midnight in eastern Pennsylvania and after midnight to sun up everywhere else when everyone is pretty much asleep.
With regards to early next week and I get into this more on the tropical weather page, the nam supports the European idea with regards to low pressure off the southeast coast of the US possibly having some impact here with regards to some rain.
High pressure builds across Northern New England with low pressure to the south. Actually the NAM has a pretty well developed low here offshore and that could be a tropical system if it can manage to transition to a warm core system. This at least sets up some overrunning clouds developing later Monday along with a northeast wind. Some rains are shown to develop though the main system is well offshore. This is something that we are going to have to watch to see how it plays out over the next few days so keep it in the back of your mind. This is not a huge deal other than it could bring some clouds and rain here Monday night through Tuesday depending on how it all plays out. Focus on the good weekend of weather in the meantime and enjoy the last weekend of summer.