Weekend Dry Warm Saturday Showers Sunday Colder Next Week
Weekend Dry Warm Saturday Showers Sunday Colder Next Week
This morning starts off cold and clear across the entire region as clouds are well offshore and extend into Florida and the Gulf of Mexico. A major storm continues in the Western US with heavy rains and snows from Northern California to the Northwest. Other than that the weather is quiet across much of the US today. We will see plenty of sunshine but there is still a bit of a busy northwest wind and highs just in the 30s.
US SATELLITE

Radars are nice and quiet across much of the Northeast with the exception of a little snow action in Southwestern Pennsylvania. Other than that things are nice and quiet.
REGIONAL RADAR

Tonight will be a cold one with clear skies and light winds. Lows in many inland areas will be in the teens and single digits with warmer urban locations closer to the low 20s.
Friday we will begin to see temperatures moderating a bit with highs reaching into the lower 40s with plenty of sun. Then comes Saturday which will be the better of the two weekend days with sunshine and some clouds. Highs will reach into the 50s except in areas that have south facing shorelines. There the sea breeze will likely cap temperatures somewhat.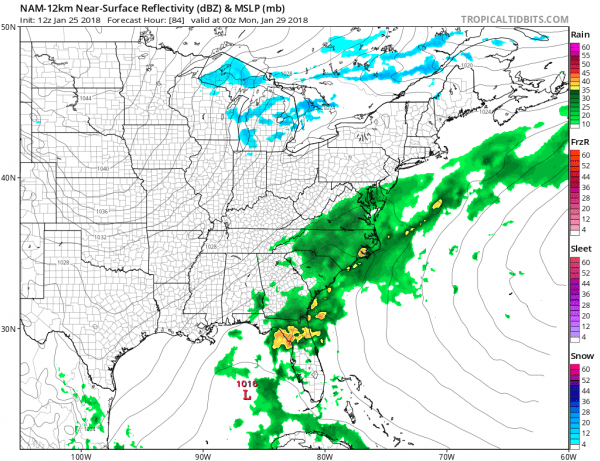 Saturday night into Sunday morning brings the next cold front with a few showers. The front looks relatively weak but the question is what happens after it goes by. It appears it will stall out offshore and low pressure will be developing in the Gulf of Mexico on the front and move northeast across Florida and up the East Coast offshore Monday into Tuesday. Cold air is poised to come back in at some point early next week but there are timing issues to work out, We will explore the possibilities later today.

GET JOE A CIGAR IF YOU LIKE 
FiOS1 News Weather Forecast For Long Island
FiOS1 News Weather Forecast For New Jersey
FiOS1 News Weather Forecast For Hudson Valley
LATEST JOESTRADAMUS ON THE LONG RANGE