Weekend Brings Onshore Flow Clouds And Risks for Showers or Drizzle,
Slow Improvement Monday

Weather in 5/Joe & Joe Weather Show Latest Podcast
Weekend Brings Onshore Flow Clouds And Risks for Showers or Drizzle,
Slow Improvement Monday
The last few days were an example of when the onshore flow works. The next few days will be examples of when the onshore flow doesn't work. The flow from off the ocean is beginning to take a foothold from New England southward and we are seeing more impressive cloud cover from the Delmarva peninsula southward to the Carolina coast where low pressure is forming. While we could see some breaks of sun from time to time and place to place gradually skies will become overcast as the day wears on. Highs will be just in the 60s to around 70 at best.
SATELLITE

WEATHER RADAR

The tricky part of this forecast is that as the lower layers of the atmosphere saturate we will start to see patches of light rain or drizzle, most of that the radar could miss while heavier showers from the developing low to the south start to push northward.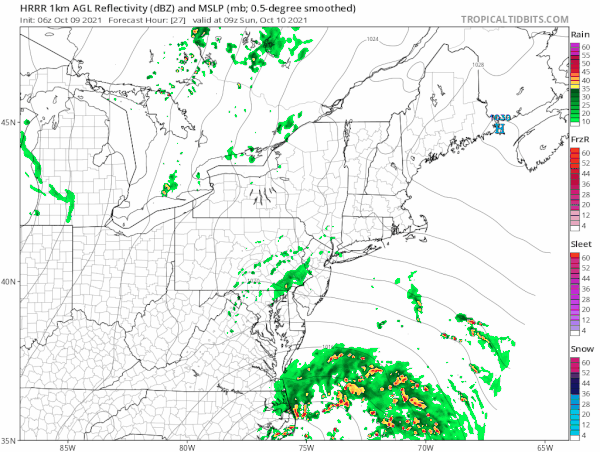 Meanwhile some of the steadier rain backs to the coast before pulling away to the northeast during the day Sunday. Inland it is just overcast but there will be patches of light rain or drizzle from time to time. This all begins tonight and lasts through Sunday night. Temperatures will settle in the upper 50s to mid 60s tonight and just hold in the 60s on Sunday. Rainfall amounts are higher near the coast and much lower inland.
Moving on to Monday Columbus Day, the onshore flow starts to slowly relax but we will still likely be in lots of clouds for Columbus Day with some patchy left over light rain or drizzle. It is possible that some inland areas could see skies brighten a bit or even go briefly partly sunny. Highs will be in the upper 60s to lower 70s on average.
Genuine improvement begins Tuesday and carries us through the rest of the week. It will be a warm Tuesday through Friday with sunshine each day. Temperatures will be in the 70s Tuesday and we will start inching up into the upper 70s and lower 80s beginning Wednesday and lasting through Friday. This could be the last warm burst as a cold front is finally due to pass here Saturday taking us to a more normal and cooler west to east pattern beginning next weekend.

Please note that with regards to any severe weather,  tropical storms, or hurricanes, should a storm be threatening, please consult your local National Weather Service office or your local government officials about what action you should be taking to protect life and property.