Weekend Brings Mostly Decent But Not Perfect Weather,
Franklin Offshore To Pass Well East,
New Tropical Storm Heading for Eastern Gulf/Florida
Weekend Brings Mostly Decent But Not Perfect Weather,
Franklin Offshore To Pass Well East,
New Tropical Storm Heading for Eastern Gulf/Florida

We are here at the weekend and we have a frontal boundary sitting overhead that needs an added push to the east. That is coming later today from another cold front to the northwest. Neither front has much energy to it. Other than some scattered showers and thunderstorms that might be running around today, we will see changeable skies going from cloudy to partly sunny.
It will be on the warm and humid side though as we need to get this front offshore and into the drier air that is over the Great Lakes and Southeastern Canada. That will come tonight but during today it will be somewhat uncomfortable with highs in the low to mid 80s. Once the fronts go by and the upper trough clears the coast, we will clear out tonight with most lows Sunday morning in the 60s.
SATELLITE WITH LIGHTNING STRIKES

WEATHER RADAR

We don't see any issues for Sunday. Dew points will be dropping down to the upper 50s and lower 60s which is tolerable. Dry air should be enough to bring sunshine across much of the area Sunday. Temperatures will be a little lower than today as highs will be mostly in the upper 70s and lower 80s.
Moving into the new week we have Franklin offshore which is likely to strengthen to a hurricane and briefly could attain major hurricane status. The southwest flow aloft along the US east coast and another series of upper troughs moving through the Great Lakes and New England insure that Franklin will move northward and track west of Bermuda and well east of the North Carolina coast , and then turn to the northeast out to sea later Tuesday into Wednesday.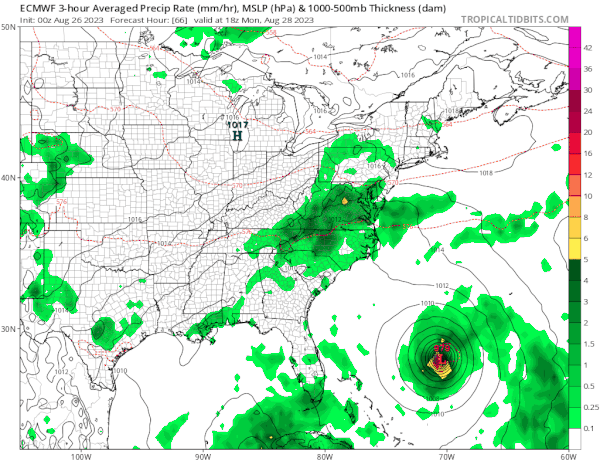 Meanwhile we have disturbed weather in the Northwest Caribbean which is getting better organized and this is likely to develop into a tropical depression or a tropical storm in the next 48 hours. This system has no where to go but north and it will likely have favorable conditions for strengthening though they are not ideal. This system is likely to impact the Florida west coast to the panhandle with heavy rains. That heavy rain issue may eventually extend into the Southeast US later this week but that is still a long way out in the forecast time frame.
Back to weather in the Northeast and Northern Mid Atlantic states it looks to be calm by comparison though we will see the risks for showers and perhaps a few scattered thunderstorms Monday and Tuesday though neither day is a washout. There will be changeable sky conditions both days and it will be on the humid side though highs Monday and Tuesday will be in the 70s. Winds will be onshore both days helping to hold temperatures down as will clouds.
A cold front will move through Tuesday and offshore early Wednesday morning, setting us up for some nice weather Wednesday through Friday in the Northeast and Mid Atlantic states. Sunshine is likely all three days and it will be on the cool side at least for Wednesday and Thursday. Highs both days will be in the 70s and humidity levels will be low. Right now there is reason for optimism for Friday and for the Labor Day holiday weekend though we need to see what happens regarding the potential tropical storm in the Eastern Gulf of Mexico.
MANY THANKS TO TROPICAL TIDBITS FOR THE USE OF MAPS
Please note that with regards to any severe weather,  tropical storms, or hurricanes, should a storm be threatening, please consult your local National Weather Service office or your local government officials about what action you should be taking to protect life and property.
(Amazon is an affilate of Meteorologist Joe Cioffi & earns commissions on sales.)