Week Begins Dry Late Week Strong Winds Rain
Followed By Very Cold Weather For Christmas

The days before Christmas are winding down to a handful now and this being a big travel week, it is probably a good idea if your destination is anywhere in the eastern half of the US, you should do it between now and Wednesday. Thursday and Friday we will start to deal with a major storm heading for the Great Lakes. Today however is a nice day overall with sunshine and just a few passing clouds in the mix. Most highs should reach near or just over 40 degrees. Some lake effect snows continue in parts of Upstate NY but other than that, radars are and should remain quiet locally through Wednesday.
SATELLITE

WEATHER RADAR

Near average temperatures continue through Wednesday and so do the nice sky conditions. Tonight will be clear for the most part with lows in the 20s inland and low 30s warmer urban settings and coast. Tuesday should be a sunny day with highs back into the lower 40s in most places. Wednesday it will be the same with sunshine most of the day and highs into the 40s.

Thursday we will start the process of slowly deteriorating weather condtions. Low pressure will be coming out of the Plains and it will make its way to the Great Lakes, strengthening into a major storm in the process. A warm front develops and starts moving northward from the Southeast US Thursday and that brings rain up the coast later in the day and into the evening.
Well inland there could be some snow or sleet at the start before it goes to rain. Temperatures Thursday will be mostly in the 40s with some warm spots to the south reaching the lower 50s in some places.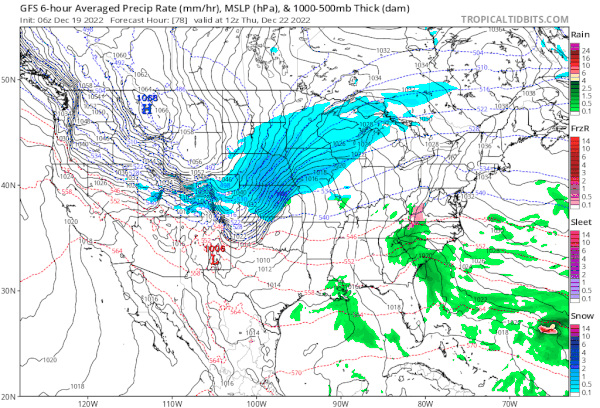 The big issue for the East is going to be the wind both ahead of a strong cold front and behind it. We are anticipating that winds Thursday night will increase and then really increase in a big way Friday. South winds will be gusting past 50 to 60 mph at times across much of the Northeast and Mid Atlantic especially along the coast. Anticipate wind advisories and even some high wind warnings going up. As for rain the first round with warm front moves through Thursday night into early Friday morning. Then there will be a break before the cold front arrives late in the day wtih perhaps some showers.
Winds will go from screaming south to screaming west and northwest Friday night as cold air comes rushing in. There is the chance we could see a burst of heavy snow with snow squalls Friday night as a very strong upper trough swings through to bring in the cold air. Maybe someone gets the ground whitened up. Otherwise no snow for Christmas Eve or Christmas Day.

Both days will be dry. Christmas Eve is going to be very cold and windy with some sunshine. Highs however will be only in the 20s at best. Saturday night into Sunday morning will be very cold with lows in the single digits inland and teens coast and warmer urban areas. Sunday Christmas Day will be sunny but cold with a little less wind and highs again only in the 20s.
Please note that with regards to any severe weather,  tropical storms, or hurricanes, should a storm be threatening, please consult your local National Weather Service office or your local government officials about what action you should be taking to protect life and property.