DOWNLOAD MY NEW FREE JOESTRADAMUS WEATHER APP FOR ALL DEVICES
THE APP IS ABSOLUTELY FREE TO ALL BUT CONSIDERING SUBSCRIBING TO PATREON FOR A WEATHER EXPERIENCE FREE OF ADS, EXCLUSIVE VIDEOS FOR MEMBERS ONLY AND MUCH MORE…STARTS AT $2 A MONTH..MESSAGE ME AT ANY TIME
Week Begins Cold Coastal Low Brushes Tuesday Night, Rain Friday
No doubt it is cold on the April Fool's Day morning with gusty winds and temperatures in the 30s making it feel like it is down in the 20s. Don't expect much warming today though at least we will have a good deal of sunshine and just some passing clouds. This time of year we should be up in the mid to upper 50s and we will finish about 10 degrees lower with highs in the 40s to near 50 this afternoon.
Winds will be gusting to 30 mph at times today but those winds should begin to ease tonight with clear skies. Lows will be generally in the 20s to lower 30s. The satellite loop this morning shows high clouds to the south across the Southern Mid Atlantic back to the Gulf States as low pressure is beginning to organize and move to the northeast. There are no issue here into Tuesday from this low to the south other than high clouds that will eventually move in late tonight and on Tuesday.
SATELLITE

REGIONAL RADAR

Tuesday look for arriving and thickening clouds especially along the immediate coast. Weather models bring this low northeastward off the North Carolina coast and eventually pass it well south and east of Cape Cod. Models overnight have been tucking the western edge back and forth to the coast or just offshore. Conceivably we could see coastal New Jersey, Long Island & Coastal Southern New England getting brushed by this for a few hours Tuesday night.
Rainfall forecast amounts look to be fairly minimal from this except for areas well to the East which could get into some rain and a bit of wind Tuesday night into Wednesday. I don't see a wholesale shift westward that would be more problematic and this should not be described as a noreaster. Certainly areas just to the west of the immediate coast will hardly notice this system going by.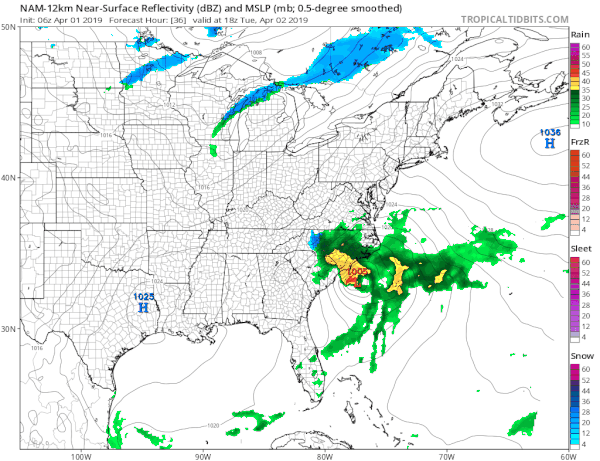 Wednesday we see clouds and sunshine with some gusty winds along the coast. Highs will be in the 50s to near 60 inland. Thursday we see sunshine giving way to arriving clouds with highs in the 50s. Friday still looks to be the one day with a chance for rain or showers as a low heads to the Great Lakes. Once that is done the pattern looks to warm over the weekend. The jet stream pattern takes a decidedly warmer look to it and it should be nice and dry. We are looking at 60s over most of the area over the weekend (except near south facing shorelines) and 70s are possible a week from today
MANY THANKS TO TROPICAL TIDBITS FOR THE USE OF MAPS
Please note that with regards to any tropical storms or hurricanes, should a storm be threatening, please consult your local National Weather Service office or your local government officials about what action you should be taking to protect life and property.