Week Ahead Weather On & Off Rain Minimal Snow Very Cold Late Week Holiday Weekend
If we are going to be warmer than average this time of year let it at least come with some nice weather so we can enjoy it. Sadly in the winter more often than not it comes with wet weather as that is what we are seeing through Thursday. The first of three waves is moving through upstate NY and New England with a cold front stalling pretty much right on top of NYC & Philadelphia later today. We have seen rain overnight and we are socked in with a lot of clouds as the satellite picture clearly shows.
SATELLITE

REGIONAL RADAR

Regional radar is showing showers moving along from west to east as well as the local radars. There are some gaps in between shower areas so we will catch a break at times today with highs in the upper 40s to lower 50s in most places.
LOCAL RADAR NEW YORK CITY
LOCAL RADAR PHILADELPHIA

Another wave arrives for tonight and Tuesday which will push the front far enough south so that we will start to see improving weather conditions later Tuesday and Tuesday night. This however means another round of rain tonight into Tuesday afternoon and then skies should partially clear Tuesday night. Temperatures will be in the 40s.
Wednesday brings wave number 3 with thickening clouds and rain developing again later in the day into Wednesday night. Areas north and west of NYC could see it start out as snow briefly but it is mostly rain into Thursday. Then the wave moves by and much colder air finishes off the week and the upcoming Presidents Day Holiday weekend. Thursday temperatures will be in the 40s before dropping into the 20s Friday morning.
Friday's highs won't be out of the 20s and that sets us up for very cold temperatures Friday night into Saturday morning with lows in the teens and single digits. Saturday's highs will not get out of the 20s. Temperatures will start to moderate Sunday and Monday but no storms are in the cards for the holiday weekend from what we see at this stage.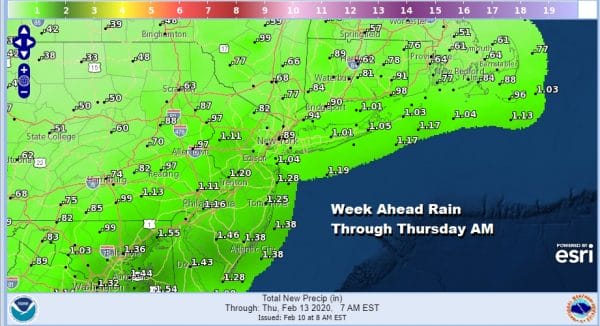 As far as rain and snow are concerned through Thursday morning amounts aren't anything to create major issues.  About an inch of rain is forecast spread out over the next 3 1/2 days. Snow forecasts through Thursday morning don't bring anything of consequence south of Route 84 and even north of Route 84 forecast amounts aren't anything extraordinary.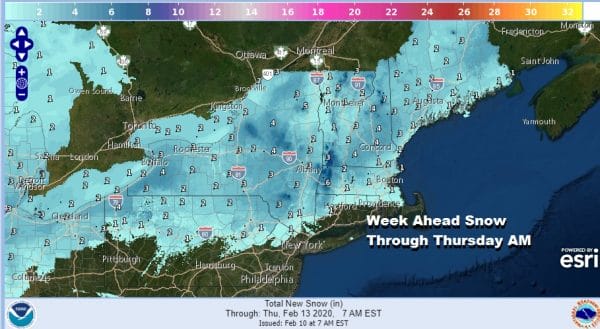 The long range really doesn't show much into next week other than chances for weather systems to come through from time to time but the overall pattern remains pretty much of the same which means it is mostly unfavorable for accumulating snow in the I-95 urban corridor.
MANY THANKS TO TROPICAL TIDBITS FOR THE USE OF MAPS
Please note that with regards to any severe weather,  tropical storms, or hurricanes, should a storm be threatening, please consult your local National Weather Service office or your local government officials about what action you should be taking to protect life and property.