Week Ahead Mostly Quiet Rain Thunder Friday Colder Weekend Into Next Week

Weather in 5/Joe & Joe Weather Show Latest Podcast
Week Ahead Mostly Quiet Rain Thunder Friday Colder Weekend Into Next Week

The new week begins and we finally have gotten that storm off the Southeast Coast of the US to move far enough east so that there are no high cloud issues. Also temperatures can start to bounce higher and that has already happened as overnight lows were not nearly as low as the past several days. So we are done with 20s for now at night and we see plenty of sunshine up and down most of the East Coast. With no high cloud issues, temperatures should reach into the low 60s. The radars are quiet and we have no real rain issues here until Friday and just a minor interruption well inland Tuesday night.
SATELLITE

WEATHER RADAR

Tuesday and Friday will be the warmest days this week. We will get to Friday in a moment. Sunshine for Tuesday will take temperatures up into the low and middle 60s. We do have a cold front coming through Tuesday night and there could be some widely scattered showers with that, mostly in upstate NY and New England. Otherwise there will be nothing more than a few clouds Tuesday night.
The front settles overhead Wednesday and just simply falls apart. We will have some sunshine Wednesday. It will be a shade cooler than Tuesday thanks to a north wind. Highs will be mostly in the lower 60s Wednesday with a few cooler spots inland topping in the upper 50s.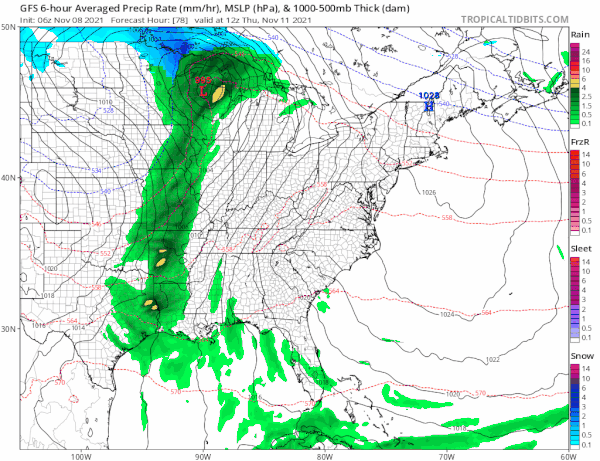 Thursday the winds turn more south southeast as the high moves east into New England and offshore. This will probably bring some clouds and the wind off the ocean will keep temperatures just into the 60s at best. This approaching cold front will have some punch to it as a strong upper trough swings east. Rain and perhaps a couple of thunderstorms are likely Friday. We could see 3/4 inch to 1.25 inches of rain from this so it should be manageable. Highs Friday will be in the 60s. The weekend sees a stair step decline in temperatures Saturday into Sunday with gusty winds, leftover clouds, and the risk for a passing shower Saturday. Leftover highs will be in the 50s to near 60. Note a second front approaches late Sunday with a chance for showers and a colder surge of air follows for the start of next week.

Please note that with regards to any severe weather,  tropical storms, or hurricanes, should a storm be threatening, please consult your local National Weather Service office or your local government officials about what action you should be taking to protect life and property.